Take Me High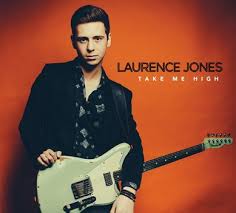 LAURENCE JONES
Take Me High
Ruf Records

Sure-fire indicators of the quality of released material are its ability to engender instant gratification, and the recognition of material heard, perhaps just once, several months before. So it is with the contents of Laurence Jones's fourth album, much of it previewed on his inspiring Spring UK tour.
It may be coincidence, but the recruitment of drummer Phil Wilson and of Mike Vernon to boss the recording console may explain Jones's subtle diversion to the more soulful, funky outboard of the blues spectrum. There's a new crispness and snap to the percussion and, in line with Jones's wishes to give Take Me High "a live feel", Vernon's production gives the spaciousness necessary to allow the classic blues trio ensemble to flourish, with Bob Fridzema turning in unobtrusive but vital keyboard support.
Jones's blues voice is maturing beautifully to match his undoubted instrumental excellence, obvious from the off on 'Got No Place To Go' as he calls-and responds between voice and guitar (evident again on 'I Will'), over his jerky funk riff, precise rhythm chops, with Fridzema's understated Rhodes adding melodic sheen.
'Thinking About Tomorrow' is all heartfelt raw emotion, with further electric piano prompting and beautifully-judged, country-tinged guitar on a gently-driving mellow, soulful highlight, whilst 'Live It Up' pulses rhythmically like a Northern Soul floor-filler with a Wilson-driven four-on-the floor chorus and Roger Inniss's instinctive Stax bassline. Not for the last time, Laurence's octave generator is put to the test. This is hit single material.
When things do get bluesier, on 'Addicted to Your Love' and 'Take Me High', gravelly Inniss bass, a vocal dripping with anxiety and Jones's overdriven psych-blues guitar give the former a feeling of menace on the 'Acid Queen' theme. The latter hangs on a snaking Delta riff and a brooding, impassioned vocal, Inniss utilising the full depth of his six string bass to provide the gravitas to match Jones's singing. Here, Vernon's production encourages exemplary three-piece playing, with Phil Wilson's subtle fills precisely-judged.
The live feel song sequencing is obvious as Take Me High hurtles to its conclusion. 'Down & Blue' is simply paradigmic trio playing, its light and shade dynamic, enhanced by Vernon's backing vocal and Jones's mastery of the octave generator, before it's special guest time.
Paul Jones adds perfectly-weighted harp to 'The Price I Pay' with funk bass and snappy drums giving that elusive tight-loose feel necessary for the song, before Laurence hands the mic over to Reuben Richards for a barnstorming 'Higher Ground' giving Stevie's monster hit a makeover that plants its feet in firmly in blues territory, a fitting end to the stellar album Jones has been building up to since 2012's Thunder In The Sky.

www.laurencejonesmusic.com
www.rufrecords.de
www.gfi-promotions.com
Date added: Aug 15, 2016
Share on Facebook
Go Back To The Previous Page