Live at The Blue Lamp, Aberdeen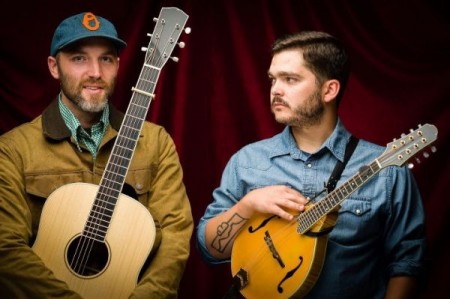 CAHALEN MORRISON AND ELI WEST/COLIN CLYNE
Live at The Blue Lamp, Aberdeen
18 September 2016

Cahalen and Eli's third appearance since 2011 at Sandy Brown's downtown speakeasy is as near to a residency as one gets in Aberdeen these days, and, as expected, they turned in yet another performance of stunning quality in terms of song, delivery and atmosphere.
With a three album back catalogue exemplary in its contemporary old-time Americana content, and an ability to pull in the occasional sublime cover of a DNA roots song, the duo's set list differs little from previous tours, and why should it?
Alternating between banjo and mandolin, Cahalen sings the earthier songs, laden with natural imagery, songs that almost seem to be hewn from the rocks and timber of the North American continent, centuries older than the US Constitution. So, 'Stone To Sand', 'The Holy Coming Of The Storm, and 'Down In The Lonesome Draw' punctuate a set where his own alternatively percussive and melodic banjo and mandolin complement and enhance Eli West's inventive guitar lines and ingenious licks.
The gentler, country side of the duo's set is taken care of vocally by Eli. In his higher register sensitive delivery, the treats include 'The Natural Thing To Do', 'My Lover Adorned' and Norman Blake's 'Church Street Blues', his plaintive tones enhanced by Cahalen's precise and emotional harmonies, amounting to a series of wholes far exceeding the numbers of their parts. The uncompromising and heartfelt efforts of both artists saw, apart from the annoyingly-persistent few, Lampie audience members silenced in rapt awe.
That both men were able to turn in a collective performance of this quality and feeling, on the final night of a gruelling and testing overseas tour is proof that we live in a golden age of live music.
It was a pleasure too, to see our local Doricana master Colin Clyne open, as he had done for Cahalen and Eli the previous evening in Glasgow. Now concentrating on solo shows, his strong songs, rooted in the often-offbeat familiar, but resonant with universal meaning, all delivered in his unique vocal style, always strike a chord. Whether he is singing of his affection for his family, football or of country heartbreak (Bob Harris's description of 'Doin' Fine'), he is always good value, and the upcoming Doricana Festival, co-curated with Almost Blue Promotions, will be worthy of the attention of anyone within reach of Clyne's native Stonehaven on 8 October.
www.cahalenandeli.com
www.colinclyne.com
www.almostbluepromotions.com
Date added: Sep 24, 2016
Share on Facebook
Go Back To The Previous Page