Café Drummond, Aberdeen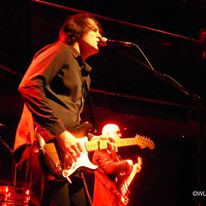 Ryan McGarvey
Café Drummond, Aberdeen
7 October 2016.

When an Eric Clapton-endorsed international star in the making includes Drummonds, with its own humid micro-climate, near the end of a strength-sapping 30-date European, NE blues fans did not hesitate to attend in healthy numbers as Blues Rock Aberdeen brought Ryan McGarvey to the city.
Yet, for all that Albuquerquean McGarvey is the star, and the visual and musical focal point, the show is as much about the band as it is about the nominal leader. McGarvey, you see, leads one of those paradigmic blues trios, with space taken up - or not - by a rhythm section expertly treading the line between providing a precise rhythmic foundation and the risk of bombast.
There is no constant reliance on painful volume, although the dynamics of McGarvey's material would be less effective without the gain faders being nudged towards the red zone. Rather, both drummer Christopher Antoine Hill and bassist Carmine Rojas live out the paradox of filling aural gaps where one doesn't notice they exist, whilst leaving breathing space where it needs to be. It's indicative of the stature and potential of McGarvey that Rojas and Hill choose to tour as his formidable rhythm section.
Alternating between the hot humbucker attack of his Firebird and Les Paul and the single coil sting of a Stratocaster, everything was offered up with soul and passion. On the restrained 'Blue-Eyed Angel Blues', Rojas's bassline is as integral to the song as McGarvey's 's own soul-baring input, and at times the sound recalls the echoey spaciousness of those classic blues trio Isle Of Wight recordings.
But when the rocking out begins, there is something quite thrilling about the brutal funk rumble of 'Little Red Riding Hood' and the, thunderous, but never over-bearing rock of 'Memphis'.
Photo by kind permission of William Legge, WL Photography
www.ryanmcgarvey.com
www.facebook.com/bluesrockaberdeen
www.cafedrummond.com
Date added: Oct 10, 2016
Share on Facebook
Go Back To The Previous Page