Stonehaven Town Hall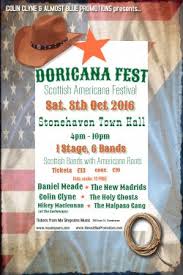 Doricana Festival
Stonehaven Town Hall
8 October 2016

Long-anticipated, but more than worth the wait, was the inaugural Doricana Festival in the capital of The Mearns, curated jointly by local Doricana standard-bearer Colin Clyne and Almost Blue Promotions' Martin Raitt. In an admirable display of democracy, every act was allocated 45 minutes, with a most un-rock n roll kick off time of 4.30pm, as unseasonal seaside sunshine flooded through the majestic Town Hall's windows.
First up, "Aberdeen's premier country and western band", The Malpaso Gang,
set the scene. Not only did this immaculately western-threaded sextet, fronted by Nina Eggens, serve up a fine appetiser of initially gentle, but eventually manic rockabilly, swing, honky-tonk and cajun, Matt Duncan also offered an insightful potted history of the seam of country they determinedly and skilfully mine. Their own infectious material, including 'Tabasco' is clever and memorable and nuggets are unearthed from ageing vinyl. Groovey Joe Poovey's 'Ten Long Fingers' is given some Malpaso CPR and becomes their own.
Demonstrating the precise planning needed to programme such a multi-
act event, the local troubadour himself, Colin Clyne, featured next. Even if he was spending an exhausting and taxing day as a co-organiser, "wearing many hats....driver, roadie, gofer, co-host, MC, performer and punter", he still found the energy and time to fulfil admirably the second last function of that formidable list. His solo acoustic guitar and racked harmonica input after the Malpasos' full band sound was a fine aural contrast, offering his sometimes off-kilter views on life, including relationships and their inevitable difficulties, the problems associated with being cool and, inevitably, the Dons. His aching 'My Bonnie Broken Valentine' was a beautiful ending to a lovely homecoming cameo.


Further contrast was provided next by the jangly country rock of Bridge of Earn's Mikey McLennan Band. Word had it that this was the band's debut, although McLennan's Carloways have been held in high esteem for some time, and it was a confident, energetic and beautifully-harmonic demonstration of their collective talent. That Rickenbacker/Telecaster combination is generally irresistible, and so it proved here, as they lifted the dynamic of the day, no doubt aided by the fact that Ma Simpson's bar had now been open for a full two hours, and evidence of a considerable personal Perthshire
following in the sell-out audience.
If the necessary 15-minute changeover time dissipated in any way the energy created by The Mikey McLennan Band, Edinburgh's Holy Ghosts almost immediately cranked the rev counter back up into the red. They've been making waves for some time, even scoring a support slot on Blackberry Smoke's 2015 Scottish dates. This time, without the stage restrictions imposed by a headliners' backline, the full visual dynamics of an exciting and committed act were allowed full expression, complementing perfectly the Ghosts' Teenage-Fanclub-meets-the-Stones-in-Lowell George's-garage mastery of glorious country and blues-based rock n roll. Whilst Stonehaven's encouraging country fans took them to their hearts, The Opry might find them just a little raucous!


With the crowd still catching its breath after the gritty, swaggering Ghosts' rock-out, a different kind of energy – pointless Physics lessons of 40 years ago suggest potential rather than kinetic - was evident in a classy display of country blues and old-time western swing by Daniel Meade. With fellow Flying Mule Lloyd Reid colouring Meade's punchy rhythmic guitar and bluesy singing with jazz-inflected six-string fills and perfectly-weighted vocal harmonies, it became clear that Hank did indeed do it this way. The duo even did Williams's own legacy justice with a faithful 'Hey Good Lookin' and pressed Stonehaven's emotional buttons with a soulful take on The Mississippi Sheiks' 'Sitting On Top Of The World'. That Meade's own material stood up favourably in such company, is an irrefutable demonstration that his, and Reid's, talents are formidable.
The New Madrids are, according to Ian Hutchison, ready to record the follow-up to their outstanding
2014 debut Through The Heart Of Town, which is welcome news to those who have overdosed on its instant gratification, uplifting DNA rock n roll, and country soul. And that is what determines the affable Perth combo's Doricana set, Donny McElligot and Hutchison alternating out front, whilst the outrageously-talented and versatile Owen Nicholson conjures perfectly-judged emotional seasoning from, as the song demanded, a Telecaster, pedal steel and lap steel.
Among the new material, a Gram cover, and favourites from Through The Heart Of Town, Hutchison's 'Shine A Light' excels, a magnificent creation that, if the world was fair, would have graced an album from one of the genre's giants by now. The Madrids provided a fitting climax to a marvellous day, proving that we live in a time of wonderfully-inventive roots music, right on our doorstep. The free-for-all encore, where Ghosts, Madrids and others collaborated gloriously on an anthemic 'The Weight' summed up a friendly, memorable day of celebration of unity and mutual appreciation.
There are at least 150 breathless truckers, kickers and cowboy angels praying that Doricana will become an annual event on the UK festival calendar.
Grateful thanks to Craig Chisholm Photography for use of the images, which evoke beautifully the atmosphere and spirit of a memorable day
www.almostbluepromotions.com
www.craigchisholmmusicphotography.tumblr.com/
www.mackies.co.uk/ice-cream.html
Date added: Oct 11, 2016
Share on Facebook
Go Back To The Previous Page