Live at The Lemon Tree, Aberdeen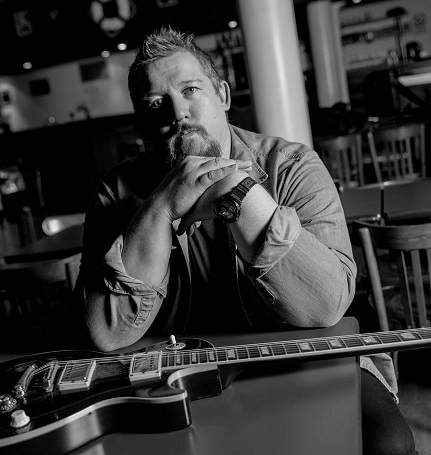 THE STEVIE NIMMO TRIO
Live at The Lemon Tree, Aberdeen
12 March 2017

The bigger stage and higher quality facilities of The Lemon Tree seemed to spur the Trio on to an even higher octane performance than that of ten months ago. With Sky Won't Fall now road-toughened, that album provided the bulk of Nimmo's ten-song set. Familiarity has not bred contempt, however; Nimmo gave his all in a supremely soulful vocal performance and displayed why he's considered one of the most tasteful and skilled guitarists around when he cut loose. It is always a pleasure too, to hear a well-drilled blues power trio create a life-affirming racket, but reliant on mutual understanding and dynamics rather than out-and-out volume.
It was a surprise, though, to hear Stevie introduce 'Running On Back To You' as "the nearest I get to the blues these days", since each component of his set list was solidly founded on blues structures, melodies and delicious flattened blue notes. Perhaps with this statement in mind, the non-originals he chose to feature were on the lighter blue end of the respective catalogues of The Allman Brothers - 'Gambler's Roll' – and Eric Clapton – 'River Of Tears'.
Among other highlights were 'Good Day For The Blues' and 'Loving Might Do Us Good'**, the latter seeing Nimmo invite the evening's support act and old pal Gus Munro to play bottleneck, and which, of course, turned into a Dickey/Duane twin guitar face-off, much to the audience's approval and the obvious enjoyment of all four musicians.
The Drummonds gig last year saw the Trio encore with Don Nix's 'Going Down', and again, this was a colossal climax to a magical blues evening with Nimmo, Mat Beable and drummer Craig Bacon leaving the appreciative Aberdeen crowd on a high, roaring its approval.
** thanks to Graham Robertson for the video
www.stevienimmo.com/
www.gusmunro.com/
www.facebook.com/bluesrockaberdeen/
Date added: Mar 13, 2017
Share on Facebook
Go Back To The Previous Page