Live at The Blue Lamp, Aberdeen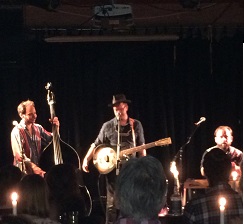 WOODY PINES
Live at The Blue Lamp, Aberdeen
23 April 2017

It's been thirteen months since Woody Pines's appearance at Glenbuchat, and fresh from again gracing the stage at that Donside jewel, he brought his supremely-gifted fellow minstrels to the city for the first time, where around fifty fans had turned up to witness the magic that he, Adam Kurtz and Cameron Carrus were bound to weave.
Energetic from the off, in 'Long Long Gone', the arrangements see Woody's resonator snare-like scrubbed in chordal percussion, whilst the nimble bass of Cameron Carrus does the heavy lifting and provides the ballast to the trio's self-descriptive "down home swing".
Adam Kurtz's Telecaster complete with its Bigsby unit, recalled a heavily-chromed 1950s Buick and made its first telling contribution on 'Walking Stick', the song prefaced by a tale of Woody's introduction to the dark windows of Tin Pan Alley. The space-age look of the Telecaster should look out of place near Woody's National resonator and Carrus's upright bass, but it's wonderfully deployed to punctuate the set's songs with blues, country, swing and jazz licks, occasionally given a bit of a filthy edge to add some modern rock tones. Kurtz's pedal steel playing too, is custom-fitted to individual songs and is outstanding in execution.
Whilst the music is played with seriousness, and reverence, humour and rudimentary theatre abound. 'Satisfy', says Woody, is "a song about love" (no audience reaction) "normally we get a least one 'boo'." Songs' backstories are explored, and the mystery of the meaning of 'The Cuckoo' is demonstrated with a physical three-musician demonstration of the mythical bird's eighteen foot wingspan. Likewise the tale of the origin of the mumbo/samba arrangement of 'Junco Partner' is a delight.
Yet, there is gentle menace in 'Delta Bound', and a serious note, as 'Little Stella Blue' is revealed to be about a niece suffering from childhood cancer from which she is now clear, a comment that draws a fraternal supportive cheer.
The trio specialise in sepia-tinted songs by influential artists which sit well beside Pines's own efforts in the same genres, but slightly more modern efforts are worthy too, and see Woody flay the Bo Diddley beat on a floor tom-tom to drive a raucous 'Who Do You Love'/'Not Fade Away' bolted seamlessly to 'Chew Tobacco Rag', and Bob Dylan's 'Buckets Of Rain' is beautifully-judged as an encore. Among the top class acts attracted to Aberdeen by Almost Blue Promotions, this was one of the jaw-dropping highlights of Martin Raitt's four-year quest.
In support, a short set from Edinburgh's Alan Shields warmed the Lampie's punter up perfectly. Shields's simply-strummed and deftly-picked guitar grounded his well-judged melodic country blues songs, which have "no hidden meanings". Ending his set with Lefty Frizzell's 'Saginaw, Michigan' was a masterstroke, and his current EP is worth a few pounds of your cash.
www.woodypines.com
www.facebook.com/alanshields1981?pnref=story
www.almostbluepromotions.com
Date added: Apr 24, 2017
Share on Facebook
Go Back To The Previous Page