Live in Cluny, Aberdeenshire/The Blue Lamp, Aberdeen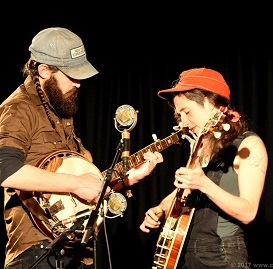 THE LOWEST PAIR
Live in Cluny, Aberdeenshire/The Blue Lamp, Aberdeen
25 April/03 May 2017

With these two shows sandwiching a series of appearances at Shetland Folk Festival, Kendl Winter and Palmer T Lee displayed their ability to maintain their trademark intimate ambience in the diverse settings of a country cottage sitting room (their debut UK appearance), and a café-style city centre venue.
Both audiences took The Lowest Pair to their hearts, as they sang their dramas, in the guise of old-time, folk and country songs, flavoured by blues and gospel, over the gentle accompaniment of complementary twin banjos and, less-frequently, acoustic guitars and harmonica. Pacing the show well, there is a definite increase in energy when their guitars are deployed in the second half of both shows. The latest Blue Lamp Bravery Award too, goes to Palmer for his courage in playing racked blues harp through a full beard.
Their voices contrast. Kendl's is generally more gentle and plaintive, a beautiful foil for Palmer's rootsier, earthier, but no less emotional delivery, but in harmony they gel as a single glorious, soulful instrument. The shared mic, ever-present eye contact, and onstage affectionate good humour lends Lowest Pair performances a sense of intimacy essential for such emotional, beautiful roots music. Europe will be more than happy to welcome them back.
Photo credit: Craig Chisholm Music Photography
www.thelowestpair.com
www.kendlwinter.com
www.facebook.com/Palmer-T-Lee-292792767448559
Date added: May 09, 2017
Share on Facebook
Go Back To The Previous Page