The Heart & The Hammer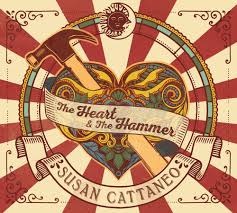 SUSAN CATTANEO
The Heart & The Hammer
Jersey Girl Music via Pledge Music

From Boston, Susan Cattaneo's two-CD The Heart & The Hammer is her fifth solo release. She returned to performing after a time as a Nashville writer, and her experience there has audibly rubbed off on the high-quality country content of The Heart & The Hammer .
Disc 1 is The Hammer, and it is edgy and passionate, on the rockier periphery of country, and all the better for that. With forty musicians adding to Cattaneo's own talent, she and studio staff have created a formidable suite of nine songs. 'Work Hard, Love Harder' is key; it's her manifesto, and is here in two helpings - a hard-driving electric shot of adrenalin opening The Hammer, and its reprise, in a less-strident bluegrass/country arrangement kicking off The Heart.
Purloining a Sheryl Crow riff for a pounding 'The River Always Wins', you can sense the way this is going, the denouement arriving with 'In The Grooves'. Its fierce proto-rockabilly in an energetic delight, although the literal references to artists and records may be a little overdone by now. Susan recovers pretty well, though, in paying tribute to Elvis over the bubbling funk of 'Ten Kinds Of Trouble'.
On the more reflective side, amid the semi-strident rocking, are the tender piano ballad 'When Live Goes Right' with Bill Kirchen, and a languid country song 'Lonely Be My Lover'. A further highlight is a menacing country take on Steven and Julie Anne Miller's 'Does Your Ring Burn My Finger?'.
The Heart is more reflective and gentle in tone after the electric onslaught of The Hammer.
The imagery of the lyrics impresses on 'Ordinary Magic' -"the way the stones love the river"- and 'Smoke' – "loving you is like catching smoke", whilst there's a nostalgic reminisce on the greenness and fruitfulness of the land, now covered in asphalt in the name of progress, in 'Field Of Stone'.
Heartache is always a staple of country music, and here, it is articulated gently, but cathartically as Cattaneo tests her full vocal range throughout 'Bitter Moon'.
And to finish, Amy Fairchild and Todd Thibaud join Ms Cattaneo at the vocal mic, to deliver David Bowie's 'Space Oddity' in impressive and respectful three-part vocal harmony, in a worthy tribute to an artist whose spirit recognised no genre boundaries whatsoever.
www.susancattaneo.com
www.gpromopr.com
www.pledgemusic.com/projects/susancattaneo
Date added: Aug 04, 2017
Share on Facebook
Go Back To The Previous Page