STONEHAVEN TOWN HALL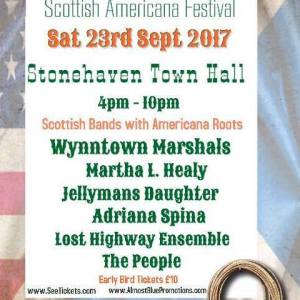 DORICANA FESTIVAL
STONEHAVEN TOWN HALL
23 SEPTEMBER 2017

The welcome second Doricana Festival opened in a similar vein to 2016's memorable event with a local act specialising in blues and hillbilly songs from the days leading up to the mid-1950s explosion that was rock n roll. Music of that era "is a scary beast to tame" according to The Lost Highway Ensemble's frontman Kenny McLeod. Percussive rhythms abounded as their guitar, banjo, mandolin, fiddle and bass line-up warmed up a healthy crowd, as daylight still streamed through the hall windows.
Covering, among others, The Delmore Brothers, Bill Monroe and the ill-starred Louvin Brothers, the Ensemble even gave Stonehaven a yodel lesson to encourage audience participation in 'Rocky Mountain Sweetheart', regrettably, McLeod informed us, "not one of Cliff Carlisle's filthiest songs". A rousing version of The Mississippi Sheiks' 'Sitting On Top Of The World' showed off the Ensemble's deft touch with Americana's DNA material, providing hard evidence that they're an estimable act whose shows deserve your attention.
It's always good to see acts that we know making the trek north, and next up was Airdrie's own Adriana Spina. Her second album Let Out The Dark impressed earlier this year when I gave it a very positive R2 review. Her CV is impressive, having opened for daunting headliners including Joan Armatrading and Sheryl Crow.
Picking the punchiest songs from that album to announce herself, she and her three-piece band, perfectly-attuned and sympathetic to the natural dynamics of the set, added late afternoon energy to Doricana, but Adriana mellowed it down with a tuneful and intimate mid-set solo spot, where she displayed her worth as a writer and performer of folk and country-influenced songs.
Her clarity of voice impresses whether in front of the band or accompanied only by her own acoustic guitar. In the latter regard, her 'Where You Are', the valedictory closing track of Let Out The Dark, was among her set's highlights.
The People, introduced as Glaswegians, although a post-set chat with the band confirmed that that's not strictly true, were perhaps the surprise of the day. Introduced by Colin Clyne as a "…must-have Doricana act" after he was knocked out by the band's new album stORR, there were sharp intakes of breath from the off, as their three-part a capella gospel harmonies of 'Hymn' startled the audience.
The People's sound is impossible to categorise, generally A Very Good Thing. The best indicator of their eclecticism, and the resulting unclassifiable but uplifting mini wall of sound, was the comparisons being made around the room as their insistent, sometimes Caledonian gothic melodies drew mention of the West Coast sounds of Buffalo Springfield and Arthur Lee. Other opinions claimed that Radiohead and Leonard Cohen were somewhere in the mélange, and there were even eight frenzied bars of all-in Bo Diddley as the coda to an otherwise gently-picked acoustic/harmony vocal number. At the merch stall, Northumbrian lead singer GB Piercy, when apprised of these comments, said, "That's about right – it sounds like my record collection".
The Jellyman's Daughter described their Doricana appearance as being back on home turf, small wonder in that Emily Kelly is a native Aberdonian, and the city's Blue Lamp is something of a spiritual home for her and musical partner Graham Coe.
The duo's new album Dead Reckoning featured prominently in a varied set, and sounding very promising indeed. Rehearsals and the trio's live performance of the title track have been very intimate, we were told, but it will have a full string orchestra arrangement scored by Graham on the album. That promises to be spectacular. A "new song of hope", 'I Hope I Never Leave This Place', too bodes well for next year's release.
Emily's and Graham's vocal harmonies are outstanding, and the unique timbrous nature of Coe's cello lends intensity, drama and soulful riffing, whilst Paul Gilbody's upright bass contributes finely-judged bottom end rumble.
It's a brave act that will interpret Joni Mitchell's 'Case Of You', but its vertiginous melody is beautifully interpreted in an instrument-free arrangement with Graham's harmonies perfectly-judged, and Emily's range deployed to perfection in a chilling, heartfelt take. Jimmy Newman's 'Cry Cry Darling' was at home in their hands too, and The Stray Birds' rocker 'Sabrina' was effervescent with gleeful energy.
Since Doricana The Jellyman's Daughter have already travelled to Italy to begin recording, with the album due out in March 2018 with a promised promotional tour.
Glasgow has always been a city that has taken country music to its heart. Self-confessed "massive country fan" Martha L Healy, from the city that boasts its own Grand Ole Opry, was the highlight of the day for those who came to hear a bit of genuine Tennessean hell-raising and tear-jerking.
Over simple arrangements, suiting her pared-back but hugely enjoyable band, Stonehaven Town Hall became a Mearns honky-tonk for forty five minutes of heartbreak and ecstasy. Meeting 'Better Days', 'To Be Fine', and Nashville drinking song 'Too Much Vodka' head on, Martha and her boys then tore into The Stones' 'Dead Flowers', Patsy's 'Walking After Midnight' and Hank's 'I Saw The Light', without fear or safety nets, but with admirable aplomb and gleeful abandon.
The onstage enthusiasm and enjoyment was mirrored down on the floor as Martha delivered a perfectly-judged mid-evening shot of high-octane Tennessee adrenalin.
2017 marks the tenth anniversary of The Wynntown Marshals, a critically-lauded Scottish Americana colossus, and probably the most faithful representation of the festival's "–ana" suffix.
We could be forensic and analyse the WM sound, but it's the very definition of the often-maligned term Americana with its glorious amalgam of jangling edgy guitars, blue collar lyrics, layered vocal harmonies and country rock feel.
'Blindsided', itself ten years old, remains a gorgeous anthem, driven by subtle but never overbearing guitar, and iced with pitch-perfect harmonies. The Marshals have mastered the art of creating an atmosphere with songs that fit the Nanci Griffith appreciation of her craft, as they "get to be someone else, someplace else for three and a half minutes, just like the listener…" and it's win-Wynn for audience and band alike, as 'The End Of The Golden Age' and 'Different Drug' pressed endorphin buttons throughout the venue. And, of course, 'Low Country Comedown' was a glorious highlight, its hook a personal earworm for days afterwards, with a second half twin Fender attack adding significant attack to the Marshals' beautifully-weighed set.
Doricana 2, like its debut festival was a huge triumph, and with its profits going to worthwhile and deserving community causes, it warms the heart even more. Stetsons, bandanas and trucker caps deserve to be doffed in the direction of the many whose efforts made Doricana such a success, but local heroes Colin Clyne and Almost Blue promoter Martin Raitt are again owed a huge debt of gratitude.
www.doricanafest.co.uk
www.colinclyne.com
www.almostbluepromotions.com
Date added: Sep 28, 2017
Share on Facebook
Go Back To The Previous Page