Trippin' Backwards: A Live Retrospective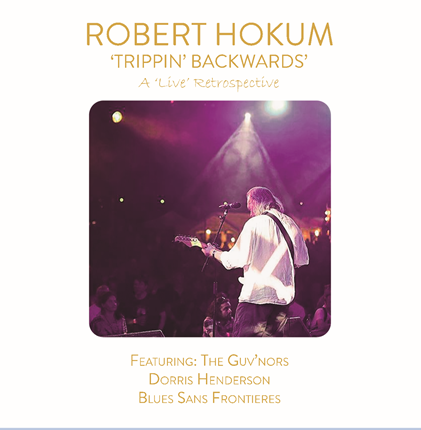 ROBERT HOKUM
Trippin' Backwards: A Live Retrospective
OWN LABEL

Widely-known for his dedication to preserving the history of the Ealing music scene, where Alexis Korner and Cyril Davies fired his imagination, and where there existed a plethora of venues and blues landmarks, Robert Hokum's stock-taking compilation, at 65, is a three-part live reminisce of his playing career.
Kicking off with a six-song salvo from 2004-2007 with his Guv'nors, incisive edgy chords, searing solos, and a rhythm section founding it all on funk-derived licks, allow Hokum to deliver throaty rasping vocals tailor-made for the material. If a young Thorbjorn Risager turns out to have been a Hokum fan, that would be no surprise.
'Hot Latin Blues' is a bubbling stew of a highlight, and it's a companion piece to a unique Latinate treatment of 'All Along The Watchtower', the latter's traditional Jimi Hendrix arrangement skewed into Santana territory by a Graham Wright bass figure and Tim Penn's Gregg Rolie organ swells.
Versatile as they are, Hokum and his team turn backing band for a four-track stint, from 2004, with the late Dorris Henderson out front. Ms Henderson turns in a tour-de-force vocal performance on her own arrangements of traditional songs, soulful, spiritual and passionate in execution. And if the arrangements feel tight, there's a hint of looseness too, suggesting that a level of improvisation is permitted. Here, Hokum's guitar work has cleaner single-coil tone, and Penn comes much more to the fore, his piano arpeggios well-suited to Dorris's chosen gospel-flavoured material. And fittingly, as a backing band, The Guv'nors' input defers always to the singer and the needs of the song.
Research shows that blues has taken influence from any number of non-American sources, and Hokum's discovery that an Indonesian call to prayer resembled a Leadbelly performance from the Library of Congress, saw him complete further research which led to a belief that blues and other ethnic musics share roots and structures. With Mehboob Nadeem playing sitar, and percussionists Sam Kelly and Paul Clarvis providing rhythm on tuned drums, Hokum's theory is tested and found to hold water as the refreshing sounds on the traditional 'Circle Round The Sun', and Hokum's own 'Walking The 4020' provide food for thought to those who demand their blues in twelve neatly-packaged I-IV-V bars. 'Circle Round The Sun' recalls the work of Tony Hooper and Richard Hudson in Strawbs mid-period, a further feature of endearment to this listener, as does the fact that Trippin' Backwards is strictly available in hard copy CD only, from www.ealingclub.com
www.roberthokum.com.uk
www.ealingclub.com
www.promusicagency.co.uk
Date added: Oct 08, 2017
Share on Facebook
Go Back To The Previous Page