Live at The Blue Lamp, Aberdeen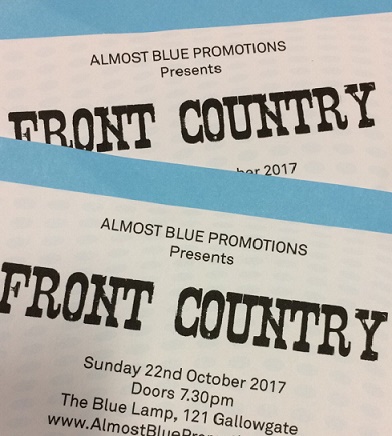 FRONT COUNTRY
Live at The Blue Lamp, Aberdeen
22 October 2017

Since their fondly-remembered 2015 UK tour, Other Love Songs has been released by Front Country to unanimous critical hosannas, confirming their status as one of the leading US acts deploying traditional instruments for not-strictly-traditional purposes as they forge their own way, with their own vision, but always "for the sake of the sound".
Promoter Martin Raitt and UK PR/stand-in tour manager Loudon Temple (Bloody Great PR/Brookfield Knights) were suitably delighted with both the attendance and the reaction of those privileged to be in the presence of scintillating soulful musicians at the top of their game.
And if both albums provide the bulk of the Front Country set, their interpretive abilities are first class too. Traditional bluegrass songs, with a due tip of Adam Roszkiewicz's cap to the songs' European roots, are given fresh shots of instrumental and vocal energy, with songs by John Hiatt, The Carter Family, Woody Guthrie and Don Henley re-purposed along the way. And when guitarist Jacob Groopman introduced David Olney's 'Millionaire' in which an unscrupulous man borrows a dollar and becomes President after a life of exploitative crime, we had an inkling of who the band had in mind.
Melody Walker proves time and time again, that she has first class soul sensibilities, never better than on 'Do-Re-Mi', and with Adam and Jacob harmonising, 'Gospel Train' might have had the flock from St Margaret's Church, just across Gallowgate, demanding entry to join in the testifying.
But if those well-honed and beautifully-executed interpretations retained the Lampie's rapt attention and drew a cacophony of applause, Front Country's original material was not dwarfed in such company. 'If Something Breaks' and 'Sake Of The Sound', driven by bassman Jeremy Darrow's significant rock n roll heft, are only two evidential examples of this collective's knack in writing, arranging and delivering songs drawing on all their influencing traditions and genres, yet stamped with their own hallmark of excellence.
www.frontcountryband.com
www.almostbluepromotions.com
www.brookfield-knights.com
Date added: Oct 23, 2017
Share on Facebook
Go Back To The Previous Page