A Long Way From Heaven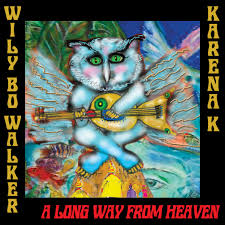 WILY BO WALKER & KARENA K
A Long Way From Heaven
MESCAL CANYON RECORDS

The first of what appears to be a 2015 series of three mini-albums from 2014 British Blues Vocalist nominee Wily Bo Walker, sees him team up with Karena K to deliver six tracks in their contrasting "barbed wire and angels" vocal styles. Both soulful, his adds the gruff, sub-Waitesian gravitas, whilst hers is sweeter, but no less passionate.
'Love Will Find A Way' sees both on the attack over a heavy doo-wop rhythm and arrangement and 'Angels In The Night' sweetens this to a more soulful burning, almost chain-gang groove, spacious and choral in feel as gospel harmonies, piano and sax drift in and out of the mix, until a smooth Gilmour-esque guitar coda brings it home.
The downbeat gospel shuffle in 'Did I Forget (To Tell You I Love You)' is pure New Jersey in feel, with Walker's upfront pleading beautifully bedded by the multi-tracked Karena backing chorus, with E D Brayshaw, one assumes, contributing tasteful and sympathetic guitar fills.
'Rendezvous des Cheminots' is described as "film noir swing", which describes its brass-laden late-night jazz club swing to perfection, Walker's growl and Karena's scatting prompts ideal foils for each other as horns blaze and guitars chime.
Karena's own 'Light At The End Of The Tunnel' ties it all up. Content to provide hip-swaying Sweet Inspirations backing as Wily Bo takes the lead, over nearly six minutes theirs is an exemplary vocal fusion of soulful collaboration, which, best of all, sounds spontaneous and heartfelt, a description that befits A Long Way From Heaven in its entirety.
Walker's second mini-album of 2015, Stone Cold Beautiful, co-credited to E D Brayshaw and due to be released in May 2015, is due for review in the July/August issue of R2 magazine. Moon Over Indigo, the third planned 2015 disc over his own name, is slated for "Q4 2015" release.
www.wilybo.com
www.karenak.com
www.rock-n-reel.co.uk
Date added: May 02, 2015
Share on Facebook
Go Back To The Previous Page