THE BLUE LAMP, ABERDEEN 06 May 2015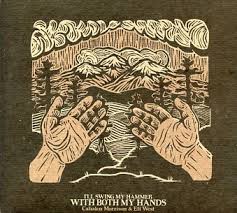 CAHALEN MORRISON AND ELI WEST
THE BLUE LAMP, ABERDEEN 06 May 2015
Live review

"Good to see you. We have many items to discuss tonight", was Eli West's greeting to an impressive midweek Blue Lamp audience. Fresh, or not so fresh as they continually claimed, from Shetland Folk Festival, this was Cahalen and Eli's first visit to Aberdeen since November 2011, to an audience numbering twice as many, to the delight of both the artists and Martin Raitt of Almost Blue Promotions.
The opening chords of 'Fiddlehead Fern' set the tone for another awed evening of entertainment in these two troubadours' company. It is a modern wonder how the duo enmesh two simple stringed instruments to create the backing for (mostly) Cahalen's timeless songs. On banjo and mandolin, Cahalen ekes out old-time melodies with a percussive edge whilst Eli's style sees him explore unusual chord voicings, bass runs and almost-geometric single string figures to enhance and complement his partner's endeavours. As a whole, it is a masterclass in timing, collaboration and harmony.
Yet, it is when they sing that their almost-intuitive sense of harmony makes their songs soar. Eli said in an R2 interview a year ago, "We strive to find strange harmonies. When I say strange, I mean that we find odd intervals that create tension. We start by finding the more normal root and fifth type harmony and then try to dodge it." The science of it is interesting, the effect is beguiling.
Familiar favourites were strewn through their set. Highlights included 'Church St Blues', 'The Holy Coming Of The Storm', 'James Is Out' and 'A Lady Does Not Often Falter'. And more. Many more. But the unfamiliar was welcomed too. Cahalen's "first explicity-biblical song", ('It Rained All Day'?) illustrated his ability to tell ancient tales – this time The Great Flood – from a new perspective and the a capella 'When A Man Has Lost His Will' saw even the Lampie's bar staff stare admiringly. Encoring with Alice Gerrard's 'V
oices Of Evening' was a fitting end to yet another uplifting evening in the company of two of Americana's finest performers.
Unfortunately, it will be September 2016 before they have the opportunity to come this close again. Just be there.
http://cahalenandeli.com
https://www.youtube.com/watch?v=FKCHq_4Tvrk
http://www.almostbluepromotions.com/
Date added: May 07, 2015
Share on Facebook
Go Back To The Previous Page