See It Through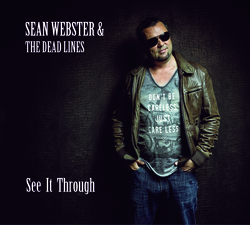 SEAN WEBSTER & THE DEAD LINES
See It Through
SELF RELEASE

Earlier albums Long Time Coming and If Only have seen Sean Webster establish a solid reputation as a versatile bluesman, well-versed in all facets of the broad church that is the genre, but possessed of unimpeachable soul credentials, even drawing comparisons to the late Joe Cocker.
Opening with a heavy-tending rock blues 'The Mayor', Webster mellows in 'Always Here', and 'Whisky', an insistent slide-heavy skiffle stomp. 'Stay With Me' maintains this laidback but always passionate mood, with moving bottleneck, as it builds gently to a power chord climax.
It's less than usual to hear 'I'd Rather Go Blind' sung from a male perspective, and it's well worthwhile, as Webster displays a mastery of phrasing over a dynamic arrangement, extending to over eight emotional moments, prompted by sterling Dead Lines' support.
And it's that soulfulness that continues to define See It Through. With its pleading vocals, blistering and tasteful guitar and a triumphant climax, one thinks that Webster cannot top 'Hear Me Now' as the highpoint. Yet the album title track which closes See It Through trumps everything before it in a country soul ballad that might be home territory for an interpretive stalwart like Millie Jackson.
www.seanwebsterband.com
www.youtube.com/watch?v=GRuekRVgzGo
www.youtube.com/watch?v=ZPA35Y4N21E
Date added: May 08, 2015
Share on Facebook
Go Back To The Previous Page