Live in Aberdeen 23 May 2015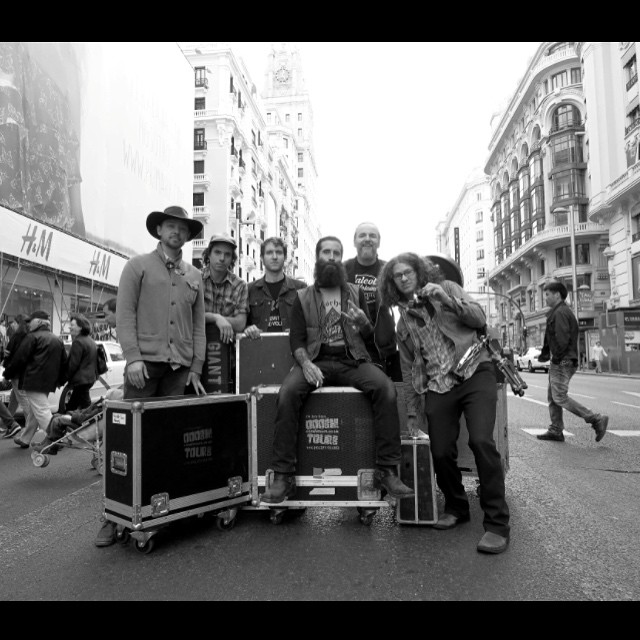 JP HARRIS & THE TOUGH CHOICES
Live in Aberdeen 23 May 2015


By repute, the authentic travelling minstrel JP Harris, who has been on the road since he was 14, refuses to describe his music as anything other than 'country'. The impressive audience, numbering over sixty, were left in no doubt of his and his band's country credentials when Aberdeen's Tunnels was temporarily transformed into a downtown Saturday night honky-tonk for two hours, thanks to Almost Blue Promotions.
It mattered little that most of the crowd knew little of the Tough Choices' material, since the set consists of the country music that JP Harris and his tightly-drilled team know will be familiar to audiences, with its roots in "the country music they just about stopped making 20 years ago". These are DNA-type songs, built on familiar chord structures and nuances, but delivered with energetic panache and look-you-straight-in-the-eye authenticity.
Referencing George Strait, Red Simpson, Faron Young as mentors, and citing Randy Travis and Alan Jackson as two of the few who have stayed true to their roots, there was no acoustic introspection, and a welcome absence of lush Nashville ballads and over-wrought emotion. Over hard-driving rhythmic honky-tonk, familiar themes and structures, JP Harris delivered everyman real-life tales with grit and hurt in an authentic bruised baritone, exactly what the crowd sought. The standard was so consistently high that picking out highlights is difficult, but 'Two For The Road', 'Maria' and a barn-storming encore 'Six Days On The Road' stick in the memory.
And the Tough Choices? An astounding band. Although Adam Meisterhans's masterly command of the Telecaster and pedal steel virtuoso ASA Brosius sparkled as brightly as the former's glitter-coated Fender, Harris too proved that he has fluid country lick capabilities in his occasional twin lead forays with Meisterhans. Mention must be made too of Tim Findlen (bass) and Jon Whitlock, who provided the rhythmic thrust that saw the dancefloor well-subscribed by the honky tonk queens of an energetic hen party and an impressive quotient of weekend truckers, pickers and cowboy angels.
This was about as good as it gets.
www.ilovehonkytonk.com
www.vimeo.com/65341897
www.almostbluepromotions.com
Date added: May 26, 2015
Share on Facebook
Go Back To The Previous Page