Live Review. The Sage, Gateshead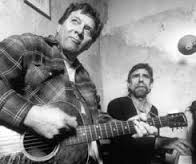 DAN PENN & SPOONER OLDHAM
Live Review. The Sage, Gateshead


Donnie Fritts, Rick Hall, The Sweet Inspirations, Otis Redding, Chips Moman, Wilson Pickett, Aretha Franklin, Bobby Emmons, James Carr, Janis Joplin, Alex Chilton…
Quite a list, and all names casually mentioned in Dan Penn and Spooner Oldham's relaxed between-song explanations of who wrote what, and for whom in the glory days of Hall's FAME Studio in Muscle Shoals and Moman's American Studios in Memphis. Not that these were self-aggrandising claims, of course. Dan and Spooner still come across as humble, dedicated musicians with heroic stories about the careers they feel lucky to have followed.
If you're familiar with Moments From This Theatre, you'll know the bulk of the setlist, but with the Ace Records re-issue of Dan's Fame Sessions, a few "new" tunes were revisited lovingly, 'I Do' and 'Zero Willpower' among them, refreshed from their time in the vaults.
Dan's voice sounds better than ever - grave, emotional and timbrous, whilst Spooner, content to harmonise where necessary, takes a couple of higher register songs, no less soulful than his partner. And where there are vocal parts that would be tricky for a singer in the prime of life – the vaulting steps in the chorus of 'Sweet Inspiration', the precise semi-tone key change in 'Dark End Of The Street' - they are handled with ease and no little experience.
As long-time friends and collaborators, there is obvious affection between them, Penn mock-berating Oldham for not calling on him to help out on a particular song, and indulging in some gentle pantomime during the coda of 'Memphis Women and Chicken'. It was like spending an evening with old friends. Well, we have all kinda known each other for 50 years...
As ever, it was a privilege to be in the same room as these legends, who deserved the heartfelt and respectful standing ovations on entry and exit. Tamsin Austin, the Sage's Performance Programme Manager, who told of her personal mission to bring the duo to the UK during her introduction, deserves an award for her efforts.
www.danpenn.com
www.spooneroldhammusic.com
www.sagegateshead.com
Date added: Jul 20, 2015
Share on Facebook
Go Back To The Previous Page