Live at Glenbuchat Hall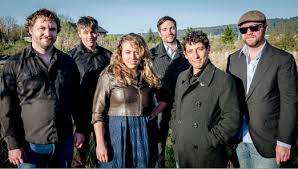 FRONT COUNTRY
Live at Glenbuchat Hall
13 November 2015

"The whole is greater than the sum of the parts", we are told, then Jacob Groopman darts in a scintillating, blurred-fingered bluegrass guitar solo, Adam Roszkiewicz intuitively, almost distractedly, turns in a percussive and trilling mandolin tour de force, Leif Karlstrom finds high register fiddle notes, some of which only dogs might pick up, and is that a James Brown funk lick that Jeremy Darrow is channelling through his upright bass during 'Gold Rush Goddess'?
Melody Walker, centre stage, presides over all, Martin guitar in hand, mistress of rhythm. Then she sings. Adam and Jacob harmonise, voices as ageless in time as their Old Testament namesakes. The parts and whole are indivisible, as inseparable as Melody's own songs are in quality from the Utah Phillips and Robert Fripp diamonds covered tonight. Yes, Robert Fripp. A giant of what will henceforth be termed prograssive rock.
A key distinguishing feature of Front Country's debut full-length album Sake Of The Sound was the convergence of top notch material, astonishing playing and fearless trespass into musical territory beyond the bluegrass tradition from which these multi-talented musicians have graduated. Live, the title track is even more drama-laden, tense and punchy; 'Gospel Train', as much a field holler as a church plea, might have been a Physical Graffiti outtake, and the undulating melisma of 'Colorado', nails that contradictory tight-loose feel of Astral Weeks.
This is a band with soul too. Adult Strathdon humans appeared to be swallowing hard, jagged objects eyes as Front Country channelled their inner Stax through The Good Ol' Persons' bluegrass waltz 'Kissing Comes Easy', Melody tearing it up like Saturday night at the blues club, and self-effacingly post-show fended off wholly-valid comparisons with Janis Joplin.
Glenbuchat, as ever, fell in love with the sound, as Front Country 's energy, work ethic and capture of the almost-tangible community spirit, delivered a highlight among some fantastic 2015 shows at this rural gem.
www.frontcountryband.com
www.facebook.com/GlenbuchatHall/
www.brookfield-knights.com
Date added: Nov 22, 2015
Share on Facebook
Go Back To The Previous Page