Live at The Blue Lamp, Aberdeen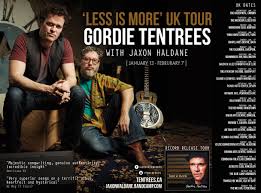 GORDIE TENTREES AND JAXON HALDANE
Live at The Blue Lamp, Aberdeen
05 February 2016

From Yukon, Gordie Tentrees, used to that territory's -23 deg C January temperatures, declared that Aberdeen's chilly dampness (not his words) was "the best winter I've ever seen". And it's from his home state that the songs and their explanations draw inspiration, founded on personal experiences and a picaresque backstory, from observations of elderly neighbours' beguiling quirkiness to narration of being caught, by his girlfriend's father, naked en route to her bedroom with a dozen prophylactics in hand as a gift. Then there's the observation, in his introduction to 'Less Is More', that he has (figuratively) "slept with Townes Van Zandt and Mary Gauthier".
His songs are mini-novels too, country in structure, but frequently eschewing standard metre and rhyme, giving the impression of being written as they're being performed, although they are obviously tightly arranged. The lasting impression is that Tentrees has perfected the art of talking blues in a new format, ideally-tooled to his repertoire.

His own guitar, dobro, stompbox and racked blues harp accompaniment dovetails perfectly with his tight-loose rootsy groove, but this is enhanced immeasurably by the contribution of Jaxon Haldane. As a multi-instrumentalist Haldane displays scintillating ability on banjo and mandolin, and seasons his friend's songs with perfectly-judged bottleneck licks and chicken-pickin' fills on a pair of four-string cigarbox guitars. The pair's harmonies too, took strong, muscular material to another sonic level. And, in probably a first for the Lampie, Haldane bows a saw expertly, creating an ethereal, theremin-like wail, making those of us, wholly uninterested in woodwork classes at school, wonder what might have been had this far more fulfilling use of tools been taught to us.

Jaxon's opening solo set was a delight too, with his epic 'James Butler Gray', a moving melodic novella on Oklahoman Native American spirit, a particular highlight, and the cleverness of 'Charlie Parker' and 'They Don't Build Shit To Last Long Anymore' impressing an appreciative Aberdeen Friday night crowd.
www.tentrees.ca
www.jaxonhaldane.bandcamp.com
www.almostbluepromotions.com
Date added: Feb 06, 2016
Share on Facebook
Go Back To The Previous Page