Ina Forsman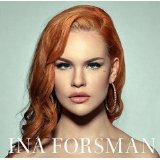 INA FORSMAN
Ina Forsman
RUF RECORDS

What is most astonishing about Helsinkian Ina Forsman's debut album is that it IS her debut, such is the maturity of writing and performance of ten songs co-penned principally with Tomi Leino, and with extra assistance from Helge Tallqvist and Harri Taitonen. Young enough to have been inspired to sing by Christina Aguilera, and citing the peerless Donny Hathaway, Aretha Franklin and Sam Cooke as inspirations for the album's contents and vibe, this debut, recording quality notwithstanding, might have been written and performed at any time in the past century.
There are shades of Sarah Vaughan, Bessie Smith - especially on the final track, Nina Simone's rampant 'I Want A Little Sugar In My Bowl' - Janis Joplin and Amy Winehouse, splendid company to be in, and Ms Forsman carries it off with the same astounding interpretive and dramatic skills as those giantesses of blues, jazz and soul.
Recorded with a stellar studio band in Austin, Texas, Ina Forsman naturally expresses aching passion, possesses an enviable innate phrasing ability and is a lyric writer of considerable promise, notably on the longing sensuality of 'Bubbly Kisses', where New Orleans piano in a Prohibition-era arrangement delivers a late-night 1920s jazz club vibe. Likewise, 'Hanging Loose' takes its lead from the Big Easy in its jerky, insistent and swinging arrangement, whilst gradual awareness of the bassline reveals the reggae soul of 'Farewell'.

Desolation and regret and Ina's outstanding range are beautifully displayed on 'Don't Hurt Me Now' and 'Devil May Dance Tonight', where phrasing and timbre reminiscent of Amy Winehouse suggest tough vulnerability and demonstrate total control of the songs' inherent drama. 'Before You Go Home' has an early 60s pop soul feel but Forsman's pleading jazz-soul singing delivers far darker passion than The Shangri-Las' innocence, and there's another delightful melding of Tamla vocals over a hot Stax arrangement in 'No Room For Love'.
Where the intensity mellows, the blues vocal of 'Pretty Messed Up' soars over a performance worthy of the great Caledonian Soul Orchestra, and 'Now You Want Me Back' is a country soul masterpiece, Forsman's testifying vocal counterpointed by evocative guitar fills, and a saxophone solo and backing vocals brimming with southern soul emotion. A 'Smokestack Lightning'-derived riff even gives the held-back propulsive groove to 'Talk To Me'.
Ina Forsman will be on tour with Ruf stablemates, the outstanding Tasha Taylor and Layla Zoe in Spring 2016 as this year's Blues Caravan. Not to be missed.
www.inaforsman.com
www.bluescaravan.com
www.rufrecords.de
Date added: Mar 07, 2016
Share on Facebook
Go Back To The Previous Page