Live at Glenbuchat Hall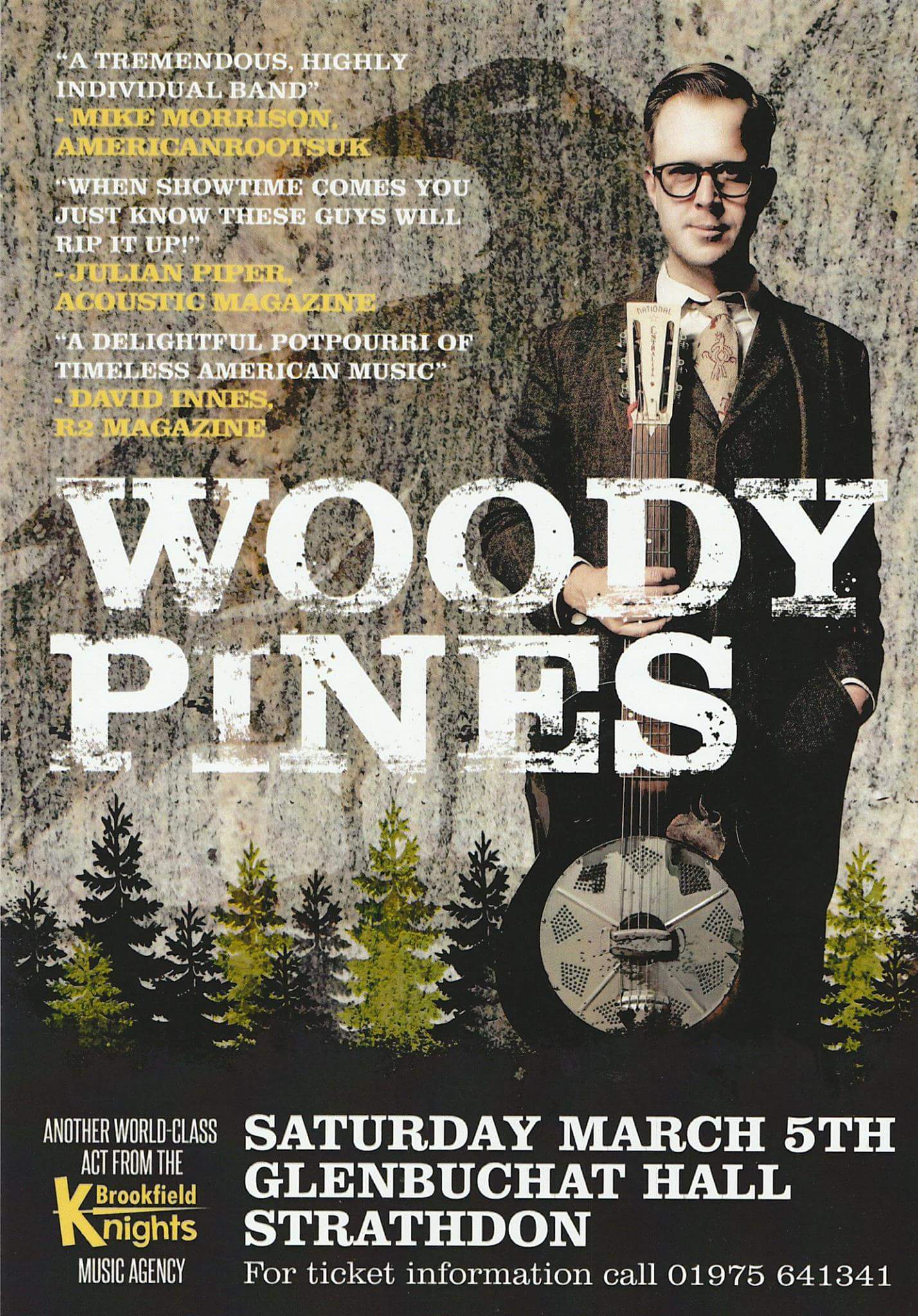 WOODY PINES
Live at Glenbuchat Hall
5 March 2016

Counting Alligators, Rabbits Motel and Woody Pines have proven Woody's mastery of western swing, country, blues, rockabilly and Tin Pan Alley and his ability to forge rhythmic and melodic connections between each and all of those convergent and divergent genres. He amplified this to a thrilled Glenbuchat Saturday night crowd, explaining that "the songs are about drinking, gambling, trains, love, backstabbing and front-stabbing", and it was a glorious racket that he, bassist Dakota Collins, and fleet-fingered guitarist Josh Irwin brought to this idyllic corner of Donside gaining an enviable reputation as a venue among fans and artists alike..
Armed with a mere five instruments – and the tom-tom wasn't brought into service – Woody and Dakota provided the drive and rhythm, whilst Josh conjured jazz, country and rockabilly licks from a 1952 Gibson guitar the size of Louisiana, and Woody's racked harp brought an additional bluesy edge to melodies where required.
The set displayed a mastery of pacing, evidence of the tough years learning on the road, with the anecdotes and song introductions informative and humorous betraying the huge respect and affection that the trio has for the pioneers and influences of their infectious and joyous sound.
The backstory to 'Counting Alligators', like a picaresque travelogue of Louisiana and Tennessee, would have been worth the entrance money on its own, likewise the broken-down van genesis of 'Richland Woman Blues' the tale of a walled-up banjo introducing 'Red Rockin Chair', and the bitter-sweet basis for 'A Hobo And His Bride'. Hank's swing-dance 'Can't Get You Out Of My Mind' was even preceded by a tutorial in the Hank cheer.
'Little Stella Blue' slowed the pace from frenetic swinging in a song of tenderness towards a niece Woody misses as she grows up. In this more laidback vein 'Satisfied', underpinned by exemplary bass, was a highlight, whilst 'Delta Bound' swung the blues gently, and featured Josh's exceptional jazz-derived guitar solo, worthy of Wes Montgomery.
And that frenetic swinging? It's not as if the regulars at Glenbuchat need any excuse to jive and jitterbug, but the "mumbo" rumba of 'Junco Partner', pacy horseracing song 'Stewball' and Memphis Minnie's mischievous 'Black Rat Swing' saw to it that those suffering itchy feet were served with first class rhythmic palliatives.
We're living in a golden age, where touring acts of the highest quality land frequently on these tiny islands to delight and entertain. Woody Pines has been among the best yet.
CREDIT: YouTube video with the kind permission of Jim Colvin.
www.woodypines.com
www.facebook.com/GlenbuchatHall/
www.brookfield-knights.com/
Date added: Mar 10, 2016
Share on Facebook
Go Back To The Previous Page