Live at The Blue Lamp Aberdeen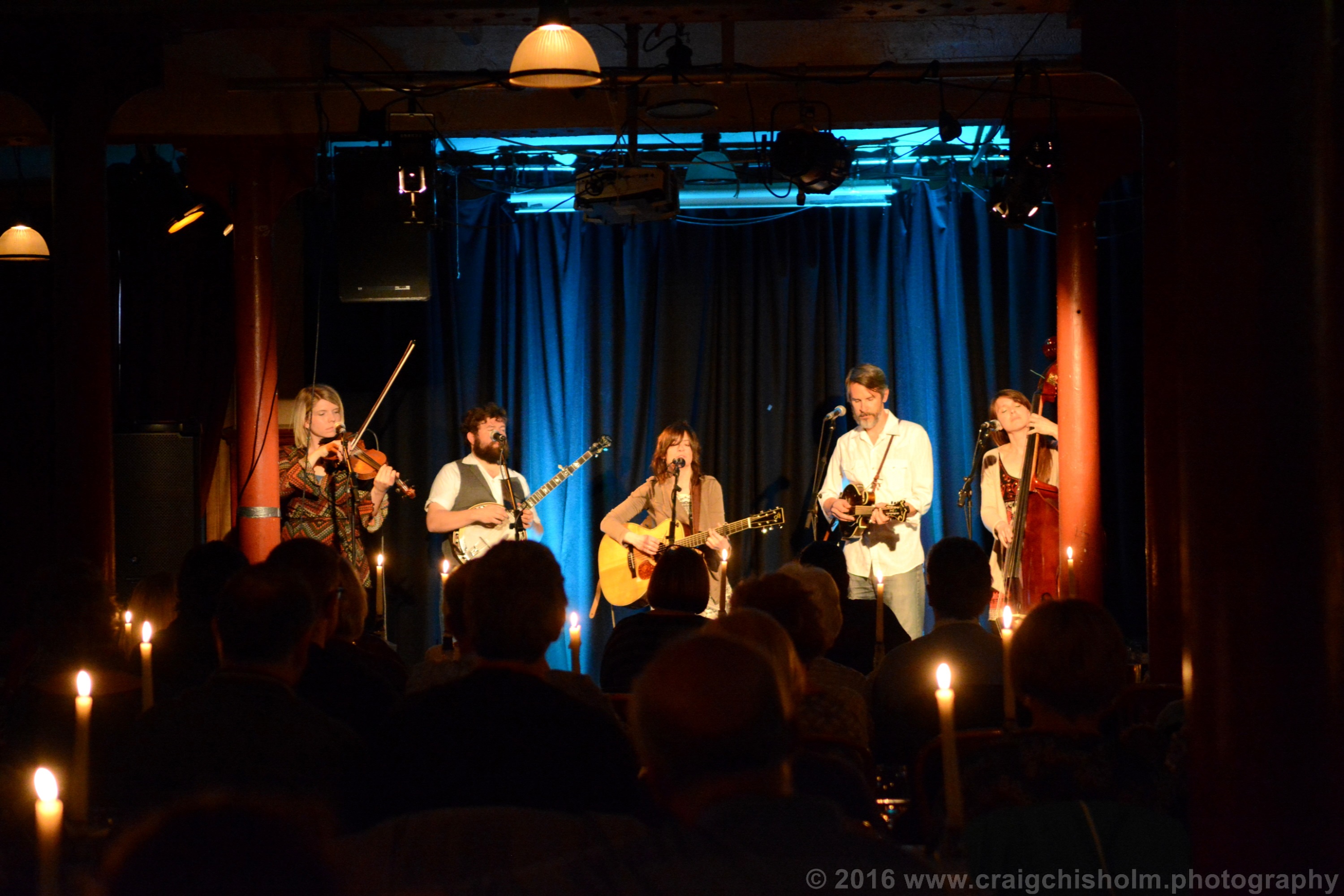 THE RAILSPLITTERS
Live at The Blue Lamp Aberdeen
24 April 2016

When The Railsplitters graced Glenbuchat Hall on the opening night of their 2015 tour, so delighted were they with the reception accorded them that they promised to return. This time, Almost Blue Promotions gave them the floor at Aberdeen's Blue Lamp, and 80 appreciative souls turned up to join in, as Lauren Stovall proclaimed, "We're preparing our livers for Shetland Folk Festival".
A sprinkling of veterans from the Glenbuchat show last May agreed that the band sounds even tighter than before, with two, three, four and five-part harmonies, perfectly pitched, riding beautifully on the often-audacious playing of three craftswomen and two craftsmen delighting in the effect of their instrumental and vocal mastery on an enraptured audience.
They declared early on that, whilst it has a bluegrass grounding, their music takes in so much more, from old time to folk and country and "progressive bluegrass". Zig-zagging across this inter-connected spectrum, it was impossible to see the joins as the traditional 'Sweet Little Miss Blue Eyes' gave way to classy country songs 'Blue Moon', the band's "girl power anthem" according to writer Leslie Ziegler, and Katie Bowser's gorgeous, yearning 'Where You Are'.
At times too, Leslie's basslines – new song 'Lessons I've Learned' in particular - gave rock n roll rhythmic heft to the set and Christine King's fiddle parts fused Celtic and blues melodies seamlessly. 'Salt Sea', and Lauren's own 'Jackson Town', a song that takes in mom, dad, Jesus and a train, thus ticking all the boxes, even have delicious jazz inflections, and the "sambagrass" 'Goosetown' seemed, by turn, to channel East Asian and flamenco flourishes, finishing with an instrumental passage that Dickey Betts might have performed in 1973. The overall lasting impression is of tightly-planned arrangements which still allow freedom of expression of the breathtaking instrumental talents onstage.
This was also a lesson in efficiency. Even where Dusty Rider's banjo, Peter Sharpe's mandolin and Christine's fiddle are not being employed adding scintillating fills, or piquant solos to the set, they are put to use percussively or chordally as the song demands.
Just as impressive, there is obvious respect and affection between the band members, not always easy when living in such close proximity on the road. The humour, both onstage and between players and audience, is massively endearing, whether they are musing on Dusty Rider's future as cowboy or porn star given his name, revealing Leslie's secret shame 1950s obsession with I Love Lucy, or all five donning Buddy Holly glasses for a rousing 'Oh Boy'.
Arctic gales will be bringing storms to Shetland this week. There will be another blowing in to those islands from Colorado.
Photo credit: Craig Chisholm Photography
www.therailsplitters.com
www.almostbluepromotions.com
www.craigchisholmmusicphotography.tumblr.com
Date added: Apr 26, 2016
Share on Facebook
Go Back To The Previous Page