Live at The Blue Lamp, Aberdeen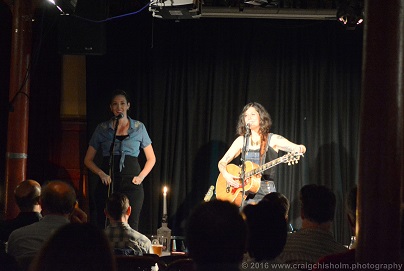 HANNAH ALDRIDGE and LILLY HIATT
Live at The Blue Lamp, Aberdeen
22 June 2016

The Blue Lamp was well-populated on a balmy Aberdeen evening to greet two respected US troubadours of differing, but complementary delivery styles.
Opening the evening with a melodic, gritty, blue-edged country-leaning set was Lilly Hiatt. Blessed with a Nashville voice ideal for articulating her tales, her songs were energetic and vibrant. The backing chords may be arranged in standard patterns, but the rhythm and punch she applied to gutsier numbers like 'Get This Right', 'Big Bad Wolf' and 'Too Bad', the latter almost Pettyish in its sequence and melody, suggest that with a full backing band live she would offer an even more impressive show.
Yet, her unplugged performance added weight to bluesandmoreagain's self-important theorem #12, that fine songs will stand up in any arrangement, whether The Dropped Ponies are around, or if Lilly has to rely solely on her Gibson acoustic guitar. Highlights included '3 Days', on the familiar theme of the travails of fulfilling a fifty dollar gig, and 'Jesus Would've Let Me Pick The Restaurant'. There was a pleasing rock n roll element to a new song - possibly 'You Don't Know About Me' – the audience reaction to which quenched the slight disquiet she expressed in advance of its performance.
Whilst both Lilly and Hannah, spoke affectionately of the respect and appreciation they'd received on their UK tour, Hannah's introduction to the reflective acoustic 'Gold Rush' summed up the tightrope-walking anxiety of touring. "Different people coming and going. You're going to places you don't know, to spill your guts to people you've never met…"
Hannah has a pure but cutting voice, assertive, but always on the brink of country hurt, and although the contents of 2014's Razor Wire were presented beautifully, the several new songs featured demonstrated a delicious punky edge, aided by her enthusiastic deployment of Leo's trusty rhythm slab, the Telecaster, as her accompanying instrument.
In true travelling minstrel tradition too, Hannah gave writer insight to the stories behind the songs. This included her telling of her quest to compose "…songs for scary movies, video games, vampires, ghosts and murderers" in her introduction to the Gothic menace of 'Lace', in which she imagines being possessed by something evil, combining this with her consideration that of the seven deadly sins, lust looked like most fun. Razor Wire's 'Parchman', an emotional highlight, is all stoic regret, laced with defiance, written to give a voice to female death row murderers, victims of domestic abuse of such savagery that it makes their crime almost understandable.
In rounding things off, she returned to her home town and the "unique bluesy country vibe of Muscle Shoals" where the brooding, swampy, soulful 'Howlin' Bones' evoked wonderfully the feel and atmosphere ever-present in those classic sounds conceived in that incalculably-influential Alabama town by the Singing River.
Returning the favour for Hannah's earlier harmony vocal on her 'Somebody's Daughter', Lilly took the stage to add beautiful resonance to Gillian Welch's 'Miss Ohio' before Hannah brought things to a poetic close by reflecting on innocence and the simple pleasures of life in 'Black And White'.
This was yet another triumphant Almost Blue evening, with several more already planned before 2016 ends.
Images courtesy of Craig Chisholm Photography.
www.lillyhiatt.com
www.hannah-aldridge.com
www.almostbluepromotions.com
Date added: Jun 28, 2016
Share on Facebook
Go Back To The Previous Page