The Tel-Star Sessions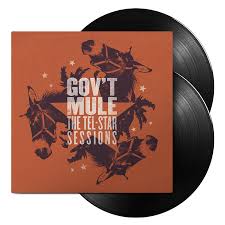 GOVíT MULE
The Tel-Star Sessions
Mascot/Provogue

Recorded in 1994, what Mascot has re-mastered and released as The Tel-Star Sessions was originally intended as the Mule's debut album. It seems that Warren Haynes, Allen Woody and Matt Abts intended Gov't Mule to be merely a side-project from Warren and Allen's regular input to the Allman Brothers Band and Matt's gig with Dickey Betts. With both Haynes' and Allen's departure from the Allmans in 1997, and with Abts behind the kit, Gov't Mule became a close-knit full-time trio, until Allen's shock death in 2000.
The Tel-Star Sessions catches a band at a key point in its career, brimming with ideas, experimenting with arrangements and studio techniques. It's pretty raw, raucous and riff-laden, but in its overdub-unadorned honesty, is a paradigm of power trio playing. Whilst Haynes is the obvious focal point both vocally and instrumentally, the necessary busyness of drummer Abts and some virtuoso bass-playing from Allen verify that acclaim for the Mule's later efforts was just reward for hard work and unstinting dedication to their individual and collective craft.
Haynes' deep vocal rasp is already well-established, and the Allmans' jam-band influence on his own playing shows on the occasional skewed jazz motif incorporated. The regular tributes paid to the influence of British blues by southern rock giants are crystallised in a faithful and raw take on Fraser and Rodgers' colossal 'Mr Big'. Personal highlights are 'Mother Earth', where Haynes vocally is at his outstanding soulful best, an indicator of what was to come, and 'The Same Thing', a Cream-like three-piece exemplar of the difficult art of balancing dynamics, power whilst laying back on the gain control.
All-in-all, the roots of Gov't Mule's near-stellar contemporary status are all here, complete with pleasing demo-feel rough edges, and as a digital record of the stirrings of a band which deserves its global acclaim, this is an extremely worthwhile release.
www.mule.net
www.mascotlabelgroup.com
Date added: Jul 01, 2016
Share on Facebook
Go Back To The Previous Page