Dust & Bones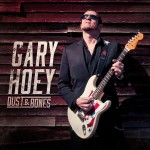 GARY HOEY
Dust & Bones
Mascot/Provogue

Hoey opens Dust & Bones with the heavy slide riffing of 'Boxcar Blues', at the outset just he and guitar, but building into a delicious, heavy groove, applying the full power of the National Grid to the song's Delta roots. There are traces too, of that same Louisiana DNA in the heavy balladry of the title track, where Hoey seamlessly drops in a delightful Eastern guitar passage amid a highly-emotive guitar break.

His PR one sheet references his heroes and influences and inflections of both Billy Gibbons and Jimi Hendrix bubble up in 'Born To Love You'. Before I'd even read the press release, it was possible to hear that 'Ghost Of Yesterday' owes more than a little to Robin Trower's 'Too Rolling Stoned' with 'This Time Tomorrow' also delivering the unmistakeable Trower (uni)vibe.

Hoey is his own man, though, and the urgency, wry humour and call and response of 'Who's Your Daddy', and the more fluid 'Back Against The Wall' demonstrate his comfort with loose, but precise shuffles. Driving and merciless, with impressive slide is 'Steamroller', Hoey's tribute to Johnny Winter.

Yet, for a musician steeped in the swaggering machismo of rock and blues, the ballad 'Coming Home' on which Lita Ford duets and which Hoey decorates with gorgeous guitar fills, is remarkably sensitive and emotional, and is Dust & Bones' earworm track.

www.garyhoey.com
www.mascotlabelgroup.com
Date added: Aug 10, 2016
Share on Facebook
Go Back To The Previous Page