Fire On The Floor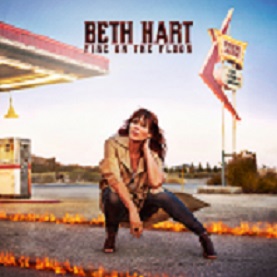 BETH HART
Fire On The Floor
Mascot/Provogue

Beth Hart's star continues to rise. Her tribute performance of 'Purple Rain' with Jeff Beck, Steven Tyler and Wet Willie's Jimmy Hall has been an internet hit, and her ultra-soulful performamce in an appearance with Beck on Jools Holland's Hootenany, was, for many the highlight of this festive season staple.
On Fire On The Floor, she reaches to her core as can only a few, including Janis Joplin, to deliver performances of outstanding passion and drama. The album's diversity across twelve tracks reflects Beth's belief that writing in the same style is stifling. Huge kudos are due to producer Oliver Leiber for providing the palette.

Hart's versatility as a writer and performer is proven from the outset, as she swings, scats and purrs with ease into the role of speakeasy chanteuse on 'Jazz Man' with 'Baby Shot Me Down' a later companion piece, all syncopated jazz-tinged funk and shifting rhythms. Physical delights experienced with an ideal man are hormonally recalled in 'Coca Cola' its languid melody and the lasciviousness of the guitar solo matching the lyrical content and delivery, although the unresolved chords hint that such joy may be fleeting.
Raw-throated soulful blues is her home ground though, and the menacing arpeggio piano chords and strong hints of danger in 'Love Gangster' see her at her angst-filled best. 'Love Is A Lie' demonstrates her exquisite theatricality in a torrid blues, as she punishingly draws emotion from her depths, the band's timing precisely fitted to the performance. Producer Leiber provides a spacious soundscape in the title track allowing Beth to give full vent to the pain of irresistible love for a man who is bad news. Here, she ranges from regret to ire, all emotions faultlessly delivered, wholly believable and sadly familiar.
Almost conversely, there's coquettish pop soul in 'Let's Get Together' where muted, understated horns, trebly organ stabs and jerky rhythm give a Caribbean feel.
But for all the harrowing hair-shirt pleading and raging, Fire On The Floor closes more reflectively. 'Picture In A Frame', was written for the late Michael Stevens, who Beth just wanted "to be better" and there's a feeling of hope amid the memories and sense of loss. Even if the mood and feel is gentle, her soul is still being bared.

The final track is 'No Place Like Home', a gentle piano-accompanied celebration of the comforts of home, hinting at closure and peace, a possible salve for some of the jagged wounds opened in the previous 45 minutes.
www.bethhart.com
Date added: Aug 30, 2016
Share on Facebook
Go Back To The Previous Page