Gypsy Blues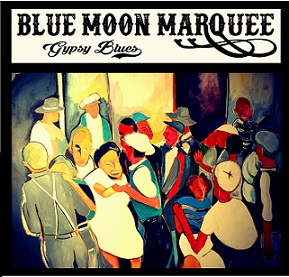 BLUE MOON MARQUEE
Gypsy Blues
No label details

With their publicist citing Memphis Minnie, Tom Waits, Lonnie Johnson, Skip James and Django Reinhardt among the influences on British Columbians Blue Moon Marquee, their third album was always going to be interesting.
On first listen, the sound is that of a blues trio with AW Cardinal's edgy guitar subtly-underpinned by a rhythm section of skiffle-like simplicity, but with a significant wood bass depth. The album's press release, however, reveals that Cardinal is backed ably and inventively only by Jasmine Colette, playing both bass and percussion whilst also adding harmonies, and singing out front on 'Ain't No Stranger'. Jasmine's additional competence as a "hoop dancer" is intriguing too. Perhaps Meg White needs to move out from behind the kit and gently chastise a bull fiddle?
Cardinal, a Metis of Cree heritage, sings with a distinctive timbrous, gruff howl, most obviously reminiscent of Tom Waits, but with Willy de Ville inflections in his phrasing. Complementing his singing perfectly is jazz-tinged blues guitar, rudimentary and amplified, complete with jagged rhythms, slurred licks and chordal fills counterpointing the emotion-heavy vocal lines.
Overall, Gypsy Blues creates its own atmosphere as the duo examine human relationships and frailties, drawing on characters you'll believe are real (and possibly are) rather than imagined, never better than on 'Trickster Coyote' and 'Pour Me One' which somehow references another one-time non-conforming offbeat duo, Sonny and Cher, in appropriating the riff of 'Bang Bang'
www.bluemoonmarquee.com
www.sarahfrenchpublicity.com
Date added: Sep 27, 2016
Share on Facebook
Go Back To The Previous Page