Live In Ghent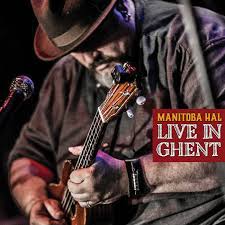 MANITOBA HAL
Live In Ghent
Halís Kitchen

Given that bluesmen down the ages improvised and used whatever might have been to hand to create accompaniment to the premier instrument, the human voice, it surely was only a matter of time before the ukulele was deployed, in the wake of diddley bows, liquor jugs and tea chest basses.
The humble uke is in the midst of a golden age, being taken seriously after decades of dismissal as a child's toy or a joke instrument. In the hands of Winnipeg's Hal Brolund, its high-register trills and damped, percussive rhythms prove that it is fully capable of accompanying the gravity associated, sometimes mistakenly, with that indefinable thing called the blues.
When you consider that the more familiar of the originators – think Robert Johnson and Blind Willie McTell – made emotional use of a bottleneck on their guitars' treble strings, the ukulele doesn't sound at all out of place as Hal takes us of a tour of well-known and obscure blues from the best part of a century. With a loop-generating device as his only other accompaniment, Johnson songs rub shoulders with those of, among others, Bukka White, Mississippi John Hurt and at least four Brolund originals. His own 'Automobile' and 'Learned Pigs & Fireproof Women', in performance, are as worthwhile as any of the standards and classics that make up his set, and which, from the Belgian audience's reaction, are warmly regarded.
Not content with borrowing pages from the great Delta songbook, though, Brolund has no fear in tackling the grit and spit of the South's urban blues motherless child. The insistent, growling Chicago rhythms of 'My Babe' are leavened in his hands and it stands up well to the skipping beat accorded it. 'Built For Comfort', even in stripped-back form retains the spirit of Howlin Wolf's swaggering, brass-punctuated Chess take and once Hal's looper is set for the Bo Diddley beat, 'Who Do You Love', the uke given an electric edge, his tribute snarls impressively with the necessary supernatural menace.
It takes belief in one's own ability to develop a set based on familiar blues DNA songs, especially with minimal instrumentation. Hal's delivery and presence oozes self-confidence, and huge respect for the material and traditions of the enduring but increasingly diverse passion that defines the blues.
www.manitobahal.com
Date added: Jan 22, 2017
Share on Facebook
Go Back To The Previous Page