More Is More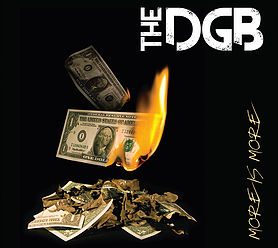 THE DGB
More Is More
Power Of Three Records

The DGB (I'm guessing The Danny Giles Band?), from the tenor of the CD's accompanying press release, has been around for a while, before taking the plunge and independently recording More Is More, with drummer Pat Garvey doubling up as studio producer, and co-writer of all ten tracks with Giles. Whilst describing themselves and bassman Jon Chase, as a trio, the sleeve note gives full credit to keyboard player Emerson Quiros, who makes subtle, but significant contributions to the band's overall sound.
Their experience and ease with each other's playing is obvious, and it is the eclecticism of their blues palette that impresses, as they explore the differing shades of prominent Texas blues, referencing Stevie Ray Vaughan in 'Hold On' and the grittiness of those other Tres Hombres, ZZ Top in 'Leave This Town'.
Further excursions see The DGB get funky on the brooding 'Shiver', where Giles's vocal phrasing occasionally displays jazz inflections, and Quiros delivers a delicious organ coda. His understated electric piano too gives a soulful Steely Dan feel to 'Love Is The Law'.
'Don't Go Messin'' is mature soulful blues of the highest order and features Giles's best vocal. The album highlight, though is 'Smokin' From The Pipe' - 6' 34" of menacing Gothic Delta blues which builds from an emotional unplugged introduction to a harrowing peroration as the demons circle, demanding their dues.
www.thedgb.co.uk
Date added: Feb 07, 2017
Share on Facebook
Go Back To The Previous Page