After The Rain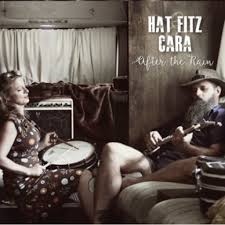 HAT FITZ & CARA
After The Rain
Own label via MGM Distribution

2014's Do Tell, its title track's glorious hook a homage to a 50-year old fridge (no kidding), was the high point to date of the career of husband and wife duo Hat Fitz and Cara Robinson. Country, blues, and soul combined, with no visible joins, on an album that typified the breadth of writing and performance craft possessed by both, and which they have never failed to develop, album after album. After The Rain continues that progress.
With a sound basis in blues, country and gospel, 'After The Rain' deploys Hat Fitz & Cara's signature huge rhythmic ballast, derived from Cara's energetic basic percussive tools augmented by Hat Fitz's stomping foot and strummed, damped strings. This endows their songs with an earthy country blues drive, but their recognisable gospel harmonies, underpinned by warm, verging-on-feedback blues house instrumentation, ensures that both field and church are represented, from opener 'Going Home' to 'Keep'n On', thirty two minutes of spirit-reviving, gritty honesty later.
The insistent boom and crash of the percussion, well up in the mix, and Hat Fitz's mandolin and slide blues rumble see Cara deliver what may be described as mini-'Kashmir's in 'Doing It Again' and 'Running Man'. 'Try', however, is the track that best sums up the duo's sound in its chain gang rhythmic insistence, warm bottleneck fuzz and raw vocal harmonising. A tempo change leading to a frenzied 90 second coda adds further energy to a stirring workout.
When Hat Fitz takes the vocal lead, 'Tank Man' and 'Won't Slow Down' burn with emotion in his uncompromising tonsil-shredding performances, convincing and uncontrived.
Yet, like a mid-album fulcrum, 'Rosie Hackett' is a wistful folk ballad displaying the deft, subtle touch of both, especially Cara's admirable vocal versatility.
www.hatfitzandcara.com
Date added: Feb 15, 2017
Share on Facebook
Go Back To The Previous Page