Know My Name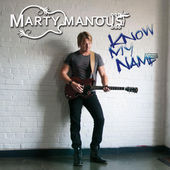 MARTY MANOUS
Know My Name
Lucky Street Music

From Georgia, Marty Manous's follow up to 2015's Transcendence continues his love-in with warm and fuzzy riffs and more subtle, reflective blues. In what may be a referential look back at his debut album, the instrumental track 'Transcending' shows that Manous has a good feel for melody as well as for the tougher, grittier rock workout and the squall of blues pentatonics.
After the pleasing riffing of the opening title track and the raucous 'Bitches', the less-frantic AOR 'Don't Let Me Go' offers a bit of respite and demonstrates his, and co-producer Sketch Ellis's judicious song sequencing. A comforting and familiar Texas funk treatment of James Clark's 'Look Over Yonder Wall' and the desolate, brooding 'Drown My Tears' are best vocally, Manous being blessed with vocal cords which recall Gregg Allman's signature laidback anxiety.
As a guitarist, our man pitches jagged-edged overdriven rock tones, but, where the song demands it, an enviable solo creaminess, on a ten track collection that will press the buttons of open-minded blues fans everywhere.
www.martymanousband.com
www.gfi-promotions.com
Date added: Mar 02, 2017
Share on Facebook
Go Back To The Previous Page