Swamp Rock Country Blues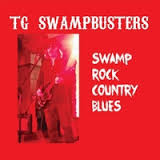 TG SWAMPBUSTERS
Swamp Rock Country Blues
No label details

From Hamilton, Ontario, Tim Gibbons's new release bears a title precisely describing its contents - all tense, shuffling swampiness, rasping blues harp, edgy guitar, and brooding agitated singing about the devil, liquor and women trouble. What's not to love?
'Honky Tonk Song' is "the sound of the blues brought to you by your local guitar man", and has more than a hint of the autobiographical, whilst 'Whiskey Woman' typifies the jagged menace that pervades Swamp Rock Country Blues. Even 'Georgia Rollin' Stone', a trip into Waylon Jennings country territory, carries an understated threat in its delivery.
Yet, if the gritty songs and deliberately-rough edges are reminiscent of Exile On Main Street-era Rolling Stones, the reflective acoustic 'She Gave Me The Blues' recalls Deadstring Brothers at their soulful best. Even more subtly, 'Five Minutes Past Midnight' is a fine, heartfelt minor key blues, its grimy underworld narrative beautifully at odds with the relatively smooth arrangement.
www.swampbusters.ca
Date added: Apr 05, 2017
Share on Facebook
Go Back To The Previous Page