Itís Time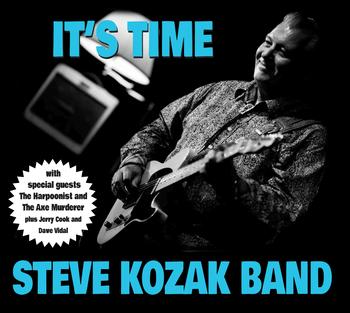 STEVE KOZAK BAND
Itís Time
No label details

There's almost an avuncular feel about Kozak's swinging R&B, recalling Bill Haley's version of rock n roll in its gently-braying saxes, understated jazzabilly guitar and polite Chicago shuffling. Yet, when Kozak adds a greasy guitar riff and a slight Latinate beat, this makes for first-class dance music, as 'Trouble' proves.
'That's Cool With Me' swings like Little Junior, recalling too our recently-departed mentor Chuck's lesser-known jazzy side, and the languid late night swing of 'Stranger In My Hometown' and adult blues 'Love, Life & Money' would be comfortably at home in a smoky post-curfew basement club.
When Kozak gets bluesier, the piano and guitar riff gives a relaxed, unhurried feel to 'Every Night And Every Day', where his own guitar work is tasteful and clean, juxtaposed with the urgent, slightly-distorted Chicago harp, and Kozak's vocal takes on an edge unheard up to this point. This is reprised to fine effect on 'Tell Me Why' and 'Goin' Fishin''.
In its melodic and understated way, It's Time will delight connoisseurs of Canada's own West Coast blues.
www.stevekozakband.com
www.sarahfrenchpublicity.com
Date added: Apr 10, 2017
Share on Facebook
Go Back To The Previous Page