The Rough Guide To Jug Band Blues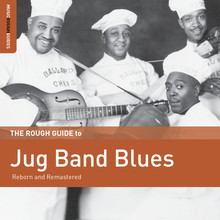 VARIOUS ARTISTS
The Rough Guide To Jug Band Blues
World Music Network

If those gingerly stepping aboard the UK punk bandwagon forty years ago thought that their home-made DIY ethos was something new, they had it wrong. If, twenty years before that, nascent Quarrymen on every UK street believed that they were revolutionary in purloining their grandmothers' washboards as percussion, and borrowing tea chests as bass resonators, they were misguided, even in their enthusiasm. So-called jug bands, and even their scratch band ancestors, had perfected the art of creating music from everyday objects in the early decades of the twentieth century, and deserve mention alongside the more illustrious and lauded of the blues pioneers.
This latest Rough Guide from World Music Network is a wide-ranging introduction and deserved tribute to the delights and inventiveness of jug band music, celebrating its diversity and the skills of its purveyors. Whilst banjos and harmonicas, sometimes even clarinets provide rhythm and melodic flourishes, the foundations are laid in many cases here, by the tuba or trombone lower-octave substitute, the humble clay or glass jug. Even where the listener may suspect that an actual bass instrument is being deployed, the feel of jug band simplicity is maintained, influential to this day as evidenced by the attraction of acts like Sheesham and Lotus & 'Son and The Boxcar Boys.
Even if well-known names crop up on this Rough Guide – Tampa Red, Daddy Stovepipe, Memphis Minnie and Jimmie Rodgers included – and delight the eardrums with their rudimentary honk and clatter, the real joy is in discovering DIY gems like the Picaninny Jug Band's 'Bottle It Up And Go', Jack Kelly & His South Memphis Jug Band's 'Red Ripe Tomatoes' and 'What's That Tastes Like Gravy' by King David's Jug Band.
These are twenty five indispensable tracks for anyone with an interest in the development of the blues and an ear for blues in the raw.
www.worldmusic.net
Date added: Apr 27, 2017
Share on Facebook
Go Back To The Previous Page