From The Outside Looking In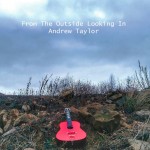 ANDREW TAYLOR
From The Outside Looking In
Rock Indiana Records

Taking time out from fronting the worthy Dropkicks, whose own fifteenth (yes, fifteenth) album is due for release in early 2018, Andrew Taylor does his own thing over the ten songs of From The Outside Looking In. Dropkicks fans will love it though, as he continues to follow a close family relative of his band's muse.
Although it's continuing to pour down outside, From The Outside Looking In is a soundtrack looking for a summer, as jangling guitars and airy optimistic harmonies abound. This sound predominates from the instant-gratification pop hook and buzz-edged guitar of opening track, 'Won't You Talk To Me' to the harmony-heavy closing 'Can't Clear My Head'.
Such familiarity is a comfort. A fully-anticipated minor chord adds a melodic twist to delicious descending west coast harmonies amid the jangle and buzz of 'Someone' and the hip-shaking riff and warm, fuzzy guitar solo of 'Who We Really Are' are beautifully-judged.
An occasional hint of wistfulness creeps in too, to offer contrast to the mid-tempo drive. The slightly-anxious 'In Their Shoes' sits on a churning chordal riff but at the same time is deceptively lush in its middle eight harmonies, whilst simple guitar, bass and drums nudge along the melancholic 'Gone', where the demo-ish feel adds to its charm.
Best of all though, is 'Stories', complete with a drop-out acoustic interlude and semi-dramatic instrumental stabs climaxing in an all-in, heads-down coda that may still be going on yet, beyond the fade at 4' 19", joyful enough, perhaps, to bring the sun out this side of December.
www.dropkickmusic.co.uk
Date added: Jun 30, 2017
Share on Facebook
Go Back To The Previous Page