Other Love Songs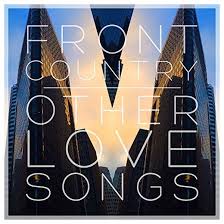 FRONT COUNTRY
Other Love Songs
Organic Records

With 2014's Sake Of The Sound enthusiastically embraced by critics, and the band's 2015 UK tour a series of staggering events, Other Love Songs marks a welcome return by Front Country, fan impatience partly tempered by the ingenuity of 2016's five-track covers EP Mixtape.
Whilst the focal point is Melody Walker, and she is the writer of no fewer than eight of the album's twelve tracks, she is surrounded by sure-footed, virtuoso musicians, providing sumptuous backing, and deploying unplugged traditional instruments to adorn and underpin muscular, emotive songs.
As impressive as the scintillating instrumental melodic passages, are the percussive dynamics from Adam Rozskiewicz's mandolin and banjo, Jacob Groopman and Ms Walker's guitars and Leif Karlstrom's fiddle, locked in with the sprightly upright basslines of Jeremy Darrow. Punchy rhythmic accents are a defining feature of Front Country's arrangements, giving a solid rock n roll feel to several tracks.
It is a masterly collection of pop and rock melodies, emotive singing, inventive arrangements, and striking dynamics, obvious from the off as 'If Something Breaks' fulfills those criteria, in what might be a microcosm of the album. 'Lonesome Town' follows, a heavy offbeat driving its forceful country melody, with Karlstrom delivering a searing solo, and Eddie Cochran licks almost impertinently finding their way into the rhythm. Then the slight melodic surprise in 'I Don't Want To Die Angry' wrong-ears the listener in a delicious way, as the acoustic instruments sure-footedly punch in the tempo. And if the Mixtape cover of The Good Ol' Persons' 'Kissin' Comes Easy', especially in its live setting, demonstrated Walker's soul credentials, these are underlined emphatically on the aching melismata of 'Undone'.
By the time Other Love Songs concludes with Walker's bitter-sweet 'Keep Travellin'', we've been visited by what could be a series of prog/jazz/blues riffs and vocal phrasing on traditional song 'Storms Are On The Ocean', Darrow's sonorous bowed bass founding Rozskiewicz's breathtaking instrumental 'T.H.A.T.S.' where the production separation is a marvel on its own, and the a capella country gospel harmonies of 'Good Side'. Commenting wryly on contemporary affairs, Groopman leads the band through a world-weary, but steely take on David Olney's 'Millionaire', noting that, "It is a timeless tale of greed and corruption with a mean and narcissistic narrator who believes that anyone who criticizes him is only jealous".
Front Country are touring the UK in October 2017 and only pestilence, a locust plague or crazed military action by that unstable gung-ho 'Millionaire' should keep you away.
www.frontcountryband.com
www.brookfield-knights.com
Date added: Jul 01, 2017
Share on Facebook
Go Back To The Previous Page