Junkerpunch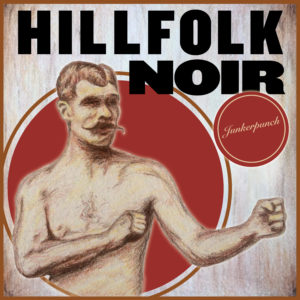 HILLFOLK NOIR
Junkerpunch
Own label

With four well-regarded albums under the collective belt, Travis Ward, Alison Ward and Mike Waite return with Junkerpunch, the title betraying some difficulties encountered in the course of recording, when Travis broke his hand in a basketball match. This injury, the Boxer's Break, resulted in delays to the album's completion and some discomfort in performing. But the medicine show must go on, right?
Yet, you'd be hard pushed to tell that something was amiss, as the self-styled Junkerdash of earlier recordings continues, in its delicious cocktail of country, folk, bluegrass, punk and string-band blues, the contents a combination of Ward's own songs and the trio's take on Skip James, Tampa Red, Hiram Stamper, JE Mainer and Henry Thomas. With Mike Waite's bass as powerful and insistent as Smokin' Joe's brutal body punching, and Alison Ward's theremin-like bowed saw and vocal harmonies as incisive as Ali's jab, Junkerpunch is, conversely, energetic and laidback at the same time.
Looking over to the wrong side of the tracks for the most part, we learn how 'Billy Got Popped' in Ward's two-minute tale, about 'Johnny's Last Run' and how one 'Might As Well Live Like A Hobo' this material as fulsome and immediate as those of his influences. Among those, there's a beautiful harmony vocal with Alison Ward on 'Crow Jane', resigned desolation on Tampa Red's ' Forgive Me Please' where Waite's clever bassline is perfect counterpoint to Ward's picking, and a rollicking "rockabilly mix" of JE Mainer's 'Run Mountain', driven by Alison's frantic washboard percussion.
With not a single song getting near the four-minute mark, Junkerpunch is a single-disc punky roots jukebox, but the final summative word goes to The Knitters' John Doe, "If John Steinbeck owned a speakeasy, Hillfolk Noir would be the house band."
www.hillfolknoir.com
Date added: Jul 02, 2017
Share on Facebook
Go Back To The Previous Page