Long Way From Home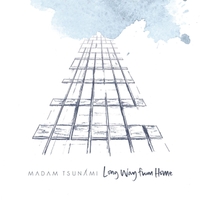 MADAM TSUNAMI
Long Way From Home
OWN LABEL

New Zealanders Adam and Coralie Usmani have relocated in Aberdeen, Scotland, referencing the city's climate and heritage in 'Blackfriars' and an appreciation of their new homeland in 'Fray'. The couple's second album is described as "folk pop", but there's firm evidence of other influences at play.
Their adopted country may have helped add subtle Celtic flavourings, accented by the contributions of several of Scotland's well-known roots players, with the instrumental 'Mama' seeing Coralie's fiddle fuse Celtic and classical in a stirring, spiralling opening melody. There are even hints of evocatively-English whimsy in the title track, and it's no exaggeration to claim that the chorus melody of 'Man On The Run' might be a White Album outtake. There's more than a bit of rock n roll punch to 'Hold Me Close', where the duo harmonise deliciously.
And the Usmanis demonstrate, despite their deceptively-gentle tunes, that they are switched on to the burning issues affecting life in contemporary Britain, and are unafraid to comment. 'Plot On The Moon' berates, over a strident beat and mandolin/fiddle interplay, the folly of 2016's EU Referendum outcome, its lyric worthy of Joe Strummer.
www.madamtsunami.com
www.birnamcd.com
Date added: Jul 19, 2017
Share on Facebook
Go Back To The Previous Page