Lay It On Down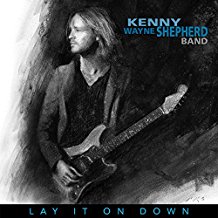 KENNY WAYNE SHEPHERD BAND
Lay It On Down
MASCOT

Kenny Wayne Shepherd reveals that he has always written in Nashville, and there is little doubt that this has influenced this Louisiana recording, with Lay It On Down a self-confessed exploration of his craft. He explains that this, his first all-original album since 2011's How I Go, is intended to have "a heavy emphasis on the songs themselves and the writing behind them. I wanted each song to really stand on its own with the songwriting, the music, the words."
So, Lay It On Down is blues-based but nudges the mainstream, and frequently sits satisfactorily on the outer limit of the blues spectrum, perhaps a bit too eclectic for addicts of other triple-monikered bluespeople like Blind Boy Fuller, T-Model Ford or Joanne Shaw Taylor, although there is plenty there for them too in the jerky bluesy riffing of 'Baby Got Gone' and 'Ride Of You Life'.
'Nothing But The Night', carried on a simple, but effective funk bassline has the feel of a blues trio, and 'Down For Love' is a shuffle built on a standard blues riff, as is the sub three-minute boogie of 'How Low Can You Go?' With one foot in Nashville, 'She's $$$' is an electric country blues with a fine root and fifth feel, its engaging simplicity seasoned by Shepherd's signature single coil tone.
Throughout, Noah Hunt and Shepherd alternate on vocals, impressing especially on the more reflective tracks – the song emphasis that Shepherd pursues. The acoustic mood of 'Louisiana Rain' and the unplugged treatment of the title track, superior in emotional delivery to the rock ballad arrangement of the same song, are among the softer highlights.
Nashville, like Memphis, is a city where country and soul enmesh deliciously, and 'Hard Lesson Learned' featuring atmospheric country soul piano and steel guitar, builds impressively from a deliberately-subdued start with a terrific sense of dynamics. When Shepherd lets go after two minutes, he offers up his most tasteful playing on the album.
There's probably something on Lay It On Down for anyone willing to lend it an ear.
www.kennywayneshepherd.net
Date added: Jul 28, 2017
Share on Facebook
Go Back To The Previous Page