The Deal Baby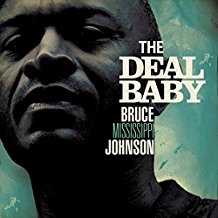 BRUCE 'MISSISSIPPI' JOHNSON
The Deal Baby
Own label

Out of the blue, or blues, comes an exceptional release from Bruce 'Mississippi' Johnson, whose life and career to date has seen him serve in the militia, build a significant profile in Parisian jazz circles, and sing with Big Joe Turner's Blues Caravan.
That latter stint saw Johnson re-embrace the spirit of his native Delta, and The Deal Baby is the heartfelt result, juxtaposing deliciously a traditional, mature earthiness and glossy modern sophistication.
Everything works on The Deal Baby by careful design, but this does not negate the passion that Johnson injects into his songs. The material is strong, arrangements are full without ever becoming cluttered, and the playing sublime, with everything precisely-tailored to give foundation, landscape and ornamentation to Johnson's perfectly-judged sung emotion.
So, what we have in this debut release, is a nu-soul, or urban production making major use of contemporary funk sounds and rhythms, but with considerable Southern soul nuances in the brass, piano and Hammond parts. Southern soul, unlike its Detroit or New York counterparts, tended to embrace the narrative element of country music, telling a story rather than just articulating feeling. The Deal Baby is a series of stories laden with emotion, and shades of Al Green, Gil Scott-Heron, Robert Cray and Donny Hathaway are always present.
On the evidence of The Deal Baby, Bruce 'Mississippi' Johnson may soon deserve to be mentioned in such company.
www.brucemississippijohnson.com
Date added: Aug 07, 2017
Share on Facebook
Go Back To The Previous Page