Amanda Anne Platt & The Honeycutters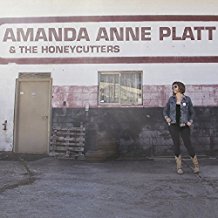 AMANDA ANNE PLATT & THE HONEYCUTTERS
Amanda Anne Platt & The Honeycutters
Organic Records

Several tracks into the latest offering from this Asheville collective, the foremost question that arises is, "How can Amanda Anne Platt, with the limit of eleven notes, and around half a dozen chord intervals, come up with a third consecutive album of instant-nourishment top quality new country songs, all audibly non-derivative?"
Speaking personally, I could probably count on the fingers of a careless lumberjack's hand, the number of five-star ratings I've given to albums reviewed in RnR in nearly twenty years. Yet The Honeycutters' two previous outings, Me Oh My and On The Ropes each achieved this full house, and if this site awarded ratings, the hat-trick would be all but guaranteed.
With her own name now featuring on the band's marquee, Ms Platt continues in her multi-functional role, as writer, lead vocalist, rhythm guitarist and co-producer, with Tim Surrett, and continues to weave golden-threaded country music excellence from the means at her disposal.
The Honeycutters are top-class musicians, possessing formidable talent, and an ability to interpret their leader's songs with enviable empathy and a beautifully-judged lick or fill, at precisely the right time. The easy-rolling sway of 'Birthday Song' and 'Long Ride' ease us gently into the offering, but 'Diamond In The Rough' hits harder, jagged-edge rock guitars and Evan Martin's keyboards giving a rock n roll toughness to the arrangement, matching Amanda Anne's strident vocal.
'Eden' is as bittersweet as Loretta Lynn in its invocation of biblical imagery in describing the bucolic outcome of a failed relationship and Matthew Smith's James Burton guitar part is an economically-structured joy. 'The Guitar Case' too is a song full of contrasts, juxtaposing the joys of being a travelling minstrel with the hard practical and spiritual realities of the road.
The versatility of all involved is demonstrated by the seamless shift between country and swing in the soaring 'Things We Call Home'. Closing track 'The Road', limits the arrangement to guitar and voices only, the sense of space afforded by her production, and the generous sentiment of the lyric, "I hope the road is good to you, my friend", underlining its choice as a fitting end to another triumph for a band that seems to scoff at the term "ordinary".
www.honeycutters.com
Date added: Aug 12, 2017
Share on Facebook
Go Back To The Previous Page