We've Come Along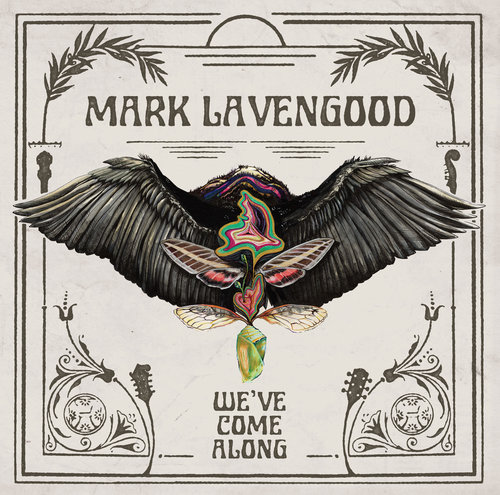 MARK LAVENGOOD
We've Come Along
Own label via Kickstarter

Mark Lavengood's obvious carefree and positive approach to life suggests he's a good guy to have around, and the public persona he displays on and offstage with the splendid Lindsay Lou & The Flatbellys adds enormously to the vibrancy of their live shows. His approach to his craft, though, could not be more serious, and he is a formidable musician, a top-class performer, especially on resonator guitar and Weissenborn lap steel.
Mixing up his own compositions with well-established standards and traditional songs, We've Come Along is firmly-rooted in bluegrass and its blues and country cousins, but under Lavengood's direction, other territories are explored with their nuances brought to the table – and you can't see the join, genre purists. Out of the blocks, the title track is an instant example, an ascending melodic twist and hook in the vocal, and the extended jazz-tinged instrumental workout among a series of constant surprises. 'Ol' Slew Foot' seems almost as if it was written with Mark's voice in mind, and 'Vulpes Vulpes' recalls Neil Young, no less, in arrangement and vocal delivery.
'Three Day Blow' sees Ben Fidler's wry lyrics occupying the corner meeting point of folk and pop, expertly and inventively instrumented by mountain strings, and Bruce Springsteen's 'Hungry Heart', previously given a gruff-but-tender haunting makeover by Wyckham Porteous, benefits from a splendid Mississippi mountain treatment here, illustrating the maxim that a great song will stand out in almost any arrangement.
Providing the final book-end of We've Come Along, is Lavengood's own 'America', in which even he sounds world-weary in detailing the injustices prevailing in his homeland. But you know that he has hope, illustrated by the twin vignettes 'Interlude For LA' for his son Louie, almost an honorary nephew of those who follow Mark on social media.
And a word to his band. Matching Lavengood's own fleet-fingered dexterity, Kyle Rhodes (guitar, mandolin, vocals), Jason Dennie (guitar, mandolin, vocals), Keith Billie (banjo) add sparkle, vibrant colour and harmony wherever and whenever required, all founded on Spencer Cain's precise, incessant and unobtrusive bass promptings.
www.marklavengood.com
Date added: Aug 15, 2017
Share on Facebook
Go Back To The Previous Page