We're All In This Together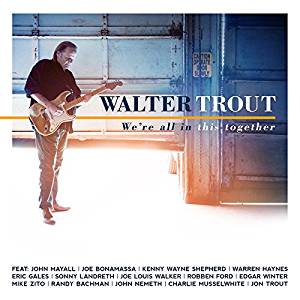 WALTER TROUT
We're All In This Together
Mascot/Provogue

That Walter Trout is still on this side of the turf is a huge relief in itself, following his near-fatal illness in 2014. Documenting that near-death experience in 2015's Battle Scars, his swift return to playing, recording and performance was as unexpected as it was welcomed by the global blues community. A further album gives comfort that his recovery has progressed beyond where any of us dared hope during those dark days three years ago.
"It was quite a piece of work to get this record together," Walter admits. "But I guess I have a lot of friends…" This is validated by the list of We're All In This Together collaborators, one on every track, the sleeve reading like a contemporary blues who's-who. Judge for yourself, from the full roster of friends who have rallied round, keen to support a modern blues giant in his step-by-step journey of recovery
Starting out on a coruscating 'Gonna Hurt Like Hell' with Kenny Wayne Shepherd, We're All In This Together is a non-stop succession of stellar collaborations with blues luminaries old and young, validating the claim that Trout is one of a select few bluesmen who is "the glue that bonds the blues community together". It's fitting too, that after a journey through shuffles, subtly-riffing minor key blues and an enviable variety of duets, he duels with his old boss John Mayall on 'Blues For Jimmy T', and when he and Joe Bonamassa stretch out on the closing title track, the mutual respect is almost audible.
It's nearly impossible to pick out individual highlights, although if pressed, 'The Other Side Of The Pillow' with Charlie Musselwhite's evocative harp dovetailing deliciously with the surrounding cacophany, and Mike Zito's best Dickey Betts licks on 'She Listens To The Blackbird Sing', are worthy of specific prompting, but really, the quality level never dips from first to last.
Having Walter Trout still among us, against most odds, is heart-warming. Hearing him and his pals on this form is as life-affirming as it is gratifying.
The full guest list:
Kenny Wayne Shepherd Sonny Landreth
Charlie Musselwhite Mike Zito
Robben Ford
Warren Haynes
Eric Gales
Edgar Winter
Joe Louis Walker
John Nemeth
Jon Trout
Randy Bachman
John Mayall
Joe Bonamassa
www.waltertrout.com
Date added: Aug 15, 2017
Share on Facebook
Go Back To The Previous Page