Cottiers Theatre, Glasgow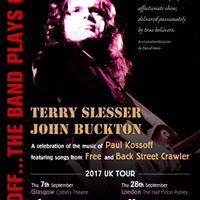 KOSSOFF…THE BAND PLAYS ON
Cottiers Theatre, Glasgow
07 September 2017

For the second time in 2017, Terry Slesser brought his band of brothers to Glasgow, celebrating the career and music of his friend and Back Street Crawler collaborator, Paul Kossoff. The week before, Sless said, "Playing Scotland and especially Glasgow is very much like playing Newcastle, where the audiences are knowledgeable and not afraid to show their feelings towards bands that they like, and in Koss's case, have great affection for".
This time around, the impressive converted church, Cottiers Theatre was the venue, just a couple of Simon Kirke drumstick throws along Great Western Road from February's venue, Webster's Theatre. It was a Thursday night rather than a Saturday this time, so the crowd was more sparse, although no less appreciative of a set that differed significantly from February's Free-dominated show. Having seen the passion with which they set about Free's catalogue in February, this change in emphasis had nothing to do with the comment made by Sless about his first bands, "We thought we'd play some Free songs, as they sounded pretty simple, but they were so difficult that we played '21st Century Schizoid Man' instead".
Clive Edwards, Rick Hunt and John Buckton, all superbly talented and drilled, still formed the core of Sless's accompanists, but with the addition of keyboardist Dave Chapman, the set's contents concentrated far more heavily on Koss's output beyond Free's seven albums. For the Kossoff connoisseur, this was a rare treat, especially the heavy concentration on Second Street, a hugely-underrated illustration of Back Street Crawler's abilities as a band as well as the individual talents of the players and songwriters, and a wonderful example of trans-Atlantic collaboration.
Throughout, Sless gave insights to the writing and recording process, told starkly of the difficulties in working with a flawed genius in thrall to powders, pills and potions, and paid deserved tributes to writers Terry Wilson, Rabbit Bundrick and the late Mike Montgomery. As an engaging frontman, the sometimes harrowing tales were told with authority yet with humour and obvious affection. A particular insightful highlight was the tale of how, being tasked to put words to a Rabbit piano riff developed through jamming into a tape-ready backing track, Sless went to his hotel room and wrote 'Leaves In The Wind' straight to the page, "Like writing a letter...it was only later that I realised it was about Koss".
And although The Band Plays On IS all about Koss, it's also a tribute that displays the supreme skills of five men (and the delightful Elaine Jackson who added lovely gospel harmonies to 'Blue Soul') whose respect for the tousle-haired little fellow in the waistcoat ensures that his soulful legend lives on.
Set list 1 Set list 2
Fire And Water Just For The Box
The Band Plays On Selfish Lover
Stealin' My Way Blue Soul
Molten Gold Songs Of Yesterday
Raging River Leaves In The Wind
Muddy Water The Stealer
My Brother Jake All Right Now
Jason Blue Wishing Well
Sweet Beauty The Hunter (encore)
I'll Be Creepin'
www.kossoffthebandplayson.com
www.cottiers.com
Date added: Sep 12, 2017
Share on Facebook
Go Back To The Previous Page