Same As I Ever Have Been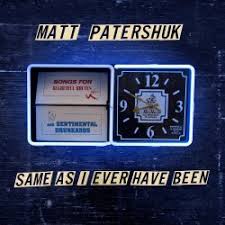 MATT PATERSHUK
Same As I Ever Have Been
Black Hen Music

Here's a man who has obviously steeped himself in all manner of western roots music, with Same As I Ever Have Been a deceptively-energetic and meaningful collection of tightly-written blue collar songs performed with honesty and feeling.
Tony Joe White, John Fogerty , Waylon Jennings and John Lee Hooker influences bubble up as Patershuk distills delicious musical liquor and serves it up in familiar old bottles, deploying any instrument necessary to achieve the organic rootsy sound essential to his desire "to travel the world and make it a better place through music".
The masterstroke is his decision to record live in the studio with his accompanists as an ensemble, to capture the feel of a band caught in spontaneous performance. The resulting harder-edged Basement Tapes groove turns out exactly as intended. But despite the jam session looseness, everything from song titles, through lyrics to song arrangements, has been tightly planned to achieve Patershuk's desired outcome.
The subjects, though, are anything but run of the mill country or blues staples. Patershuk often observes his fellow humans in semi-crisis situations, or takes a skewed look at what passes for normal life, whether that be the travelling way of life in 'Gypsy' or the struggling minstrel of 'Lost Wages And Blank Pages', and his gravelly careworn vocal delivery gives the dozen earthy songs a fine authenticity.
With performers of conscience like Patershuk, Nathan Bell and Ben Rogers around, there's comfort to be had from the increasing horror of contemporary world news headlines, knowing that we have the good guys with the good songs on our side.
www.mattpatershuk.com
Date added: Sep 25, 2017
Share on Facebook
Go Back To The Previous Page