Live at The Blue Lamp, Aberdeen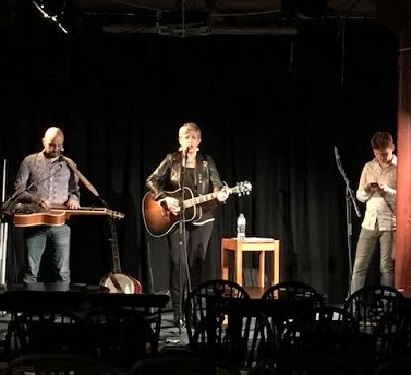 THE MARTHA FIELDS TRIO
Live at The Blue Lamp, Aberdeen
03 October 2017

Leaving aside the jaw-dropping quality of the music that Martha Fields, Olivier Leclerc and Manu Bertrand created during a memorable Blue Lamp evening, it's almost possible to give a full flavour of an astonishing evening's entertainment by merely re-telling the tales and song back-stories offered to us by an engaging artist unequivocally passionate about her art. "It's part of Appalachian culture to preserve stories, and I do that by telling them", she declared, cataloguing her uncle Junior Fields' success as a Nashville picker in introducing 'California Blues', and in declaring her pride in an aunt's independence and fortitude in 'Do As You Are Told'.
Her family left Scotland 300 years ago, victims of the Clearances, and Martha is "the first one to come back", but she stays steadfast to her Cherokee heritage too, through 'Where The Red Grass Grows' and the glorious a cappella three-part harmony of a Cherokee prayer of thanks for the dawning of a new day. "I've been playing music all my life, and I like to move around among it all – that's why it's called Americana", we were told as she moved from the rollicking 'Born To Boogie' and 'Hard Times' to cover Janis Joplin's 'What Good Can Drinkin' Do?', fittingly on the eve of the 47th anniversary of Janis's death.
As the second half kicked off, the Martha Fields Philosophy of Songwriting was promoted, "You don't have to make stuff up. Life is happy and sad and you just observe"; 'Joanna' was evidence that she is a master of her craft. A personal delight was the trio's covering my man Jimmy Reed's 'Baby What You Want Me To Do', segued with 'You Don't Have To Go', following it up with 'Lonesome Road Blues', "the first bluegrass song I ever learned, but we called it mountain music".
Proving that blues, country and mountain music are all cuts of the same vine, both giving and taking from gospel, the religious revival of Appalachia was represented by a haunting, uplifting 'What Are They Doing In Heaven Today'.
And if Martha is a writer of high quality songs, an exquisite interpreter, and a top quality performer, fiddler Olivier Leclerc and Manu Bertrand playing dobro and banjo are her ideal accompanists. Each displays complete instrumental mastery, adding bite and piquancy to the set, dropping in solos of scintillating dexterity, but always with feeling and soul. And, guess what? They're having fun as they entertain. I'm sure too, that the occasional Gallic traces in Parisian Olivier's fiddle lines are intuitive, adding immeasurably to his already-extravagant melodies. Their 'Orange Blossom Special' was exemplary in execution, laden with tension and resolution.
This was, without doubt, among the best shows seen in our city for years, and Almost Blue Promotions deserve NE Scotland's gratitude for bringing an act of such quality to enthrall us. Be quick, though, if you want to catch this astounding trio before they return to France to complete an album which promises to be a bounty of musical goodness.
Remaining dates:
Thursday, October 5 - Kirkcaldy Acoustic Music Club
Saturday, October 7 - Glasgow Americana Festival
www.texasmartha.com
www.almostbluepromotions.com
Date added: Oct 05, 2017
Share on Facebook
Go Back To The Previous Page