Orgreave Justice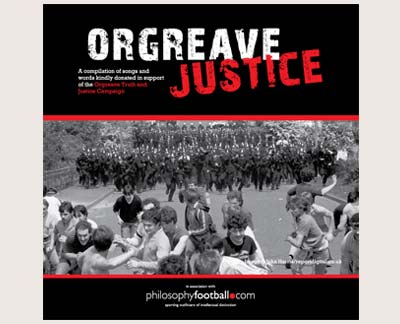 VARIOUS ARTISTS
Orgreave Justice
PHILOSOPHY FOOTBALL

Folkies, punks, post-punks, poets, rockers, indie kids and knob-twiddlers, with a hundred sub-genre request stops in between, combine, collaborate and clash on this 33-track double CD remembering the anger and bewilderment at the governmental provocation, state-sponsored violence and injustices suffered during the Miners Strike.
The Orgreave Truth And Justice Campaign, still fighting to have the power abuses exposed and cover-ups investigated, will be the beneficiary of funds raised from sales of the CD.
The content is too diverse to begin to appraise. It ranges from the well-known 'Which Side Are You On', here in two versions, the Billy Bragg take of the times and an update, complete with angry mid-song rap, by Steve White & The Protest Family, to harrowing poems, written in the immediate aftermath of the brutality or with the benefit of thirty years hindsight. The same sense of anger and determination to right community-shattering wrongs prevails.
Apart from Bragg, among other well-known names contributing are Robb Johnson, Attila The Stockbroker, Paul Heaton, Chumbawamba and TV Smith. There are touching accounts of intensely-personal memories of the strike and the indomitable courage and spirit of those who fought on the front line to preserve a fundamental right. There are tiny vignettes of human interest, for example 'The Christmas Of '84' (Jethro Platts) and 'Another Name For Coal' (Tony Walsh), which need to be multiplied thousands of times to understand their effect on families' lives. Previous uprisings and disputes are called up to provide a backcloth, demonstrating that establishment bullying and use of the force of law are not new tactics in beating down the protests of the disadvantaged. Even those with little historical knowledge of struggle will understand the contents, relevance and anger at the continuation of establishment violence and lying in 'From Peterloo To Orgreave (165 Years)'
Alas, the revelations of the police cover-up in Sheffield over Hillsborough came far too late to be of comfort to the bereaved of the 96. Likewise, any successful outcome in exposure of the politicisation of the police, the involvement of the military and bias of the judiciary during the Strike will be too late. Who will be next? Look over your shoulder.
To those who would encourage division and comply with the establishment to conquer, who drape themselves in false flags and who claim that fragmentation trumps solidarity, who may not even have been around to witness the lies and spin, or who swallowed it all, there are 33 lessons in community political values and pride here. Listen and learn.
www.philosophyfootball.com
http://otjc.org.uk/
Date added: Mar 27, 2015
Share on Facebook
Go Back To The Previous Page