Dare I Believe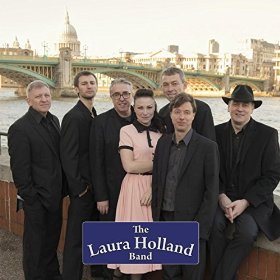 The Laura Holland Band
Dare I Believe
SELF-RELEASE

Despite having a busy gig schedule in the London area and being an in-demand festival act, Laura Holland and her six-piece backing combo have found the time to write and record Dare I Believe, a welcome follow-up to The Smokehouse Sessions.
Whilst many of her teenage contemporaries were grooving to nu-soul, urban and hip-hop, according to the PR blurb, Ms Holland was imbibing the grooves of Stax and Chess. This is no empty boast or overblown claim, as the contents of Dare I Believe demonstrate. In putting her band together, therefore, she has followed the classic MGs/Mar-Keys combination of guitar, bass, drums, Hammond and horns, in front of which she is a fitting vocalist, described as "whiskey and smoke" in tone and timbre.
Overall, the atmosphere of Dare I Believe is pleasingly spacious, despite the complement of seven musicians squeezed into the mix. This leaves room for the tiny production details which garnish some top quality workouts, such as the subtle bottleneck fills and electric piano on 'Nasty Piece Of Work', which, alongside 'It Ain't Worth Falling Out' and 'Shut The Door, Turn The TV Down' are steady-rolling boogie shuffles nudged along by splendid Stax horns. There's almost a politeness about the gently-riffing brass, bluesily flavouring the title track under a creamy Holland vocal as Tris Llewelyn conjures up complementary Hammond swells.
Laura Holland has mastered the tricky art of blues and soul phrasing, and unfailingly tailors her tone and pace of delivery to each track's contents and sentiment. On 'Forgive Me', she matches the bluesy pedal arrangement with an edgy pleading vocal, as tasteful Nick Sharples guitar fills and guest John O'Leary's harp inserts build the song to a horn-driven climax.

The band swings too. It's like Saturday night at the blues club as they jauntily groove through 'I Just Can't Love You', 'The Mess That I Made' and the light funk of 'The Heartbreak Song' and 'Led Astray By You' too.

Contemporary soul in the UK is in a healthy state on the evidence of The Laura Holland Band's dedication to the groove, and news of an imminent new release by Midlands stalwarts Stone Foundation.
www.laurahollandband.co.uk
Date added: Mar 31, 2015
Share on Facebook
Go Back To The Previous Page