A Wanderer I'll Stay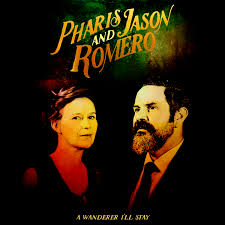 PHARIS AND JASON ROMERO
A Wanderer I'll Stay
LULA RECORDS

Previous sublime outings Long Gone Out West Blues and A Passing Glimpse have seen us almost get used to the backwoods Canadian duo's outstanding melodic, vocal and instrumental craft. Easy and tempting then, you'd think, for the Romeros to rest on their laurels and perhaps even let standards slip. Not so. They were rapturously received at Celtic Connections 2015 and A Wanderer I'll Stay sees Pharis and Jason continue to pull together old and new from folk, country and bluegrass, whilst adding their own chapters and footnotes to those traditions of which they are now a key contemporary component. They are another of those acts whose roots seem to burrow deep into some aquifer of holy grail American music and draw sustenance, energy and emotion.
After only a few listens, it's very possible to conclude that A Wanderer I'll Stay is their best yet, their considerable strengths even more on show than before.
Both are blessed with vocal cords capable of delivering ethereal blue-edged purity and all across A Wanderer I'll Stay, this is a trump card. Pharis brings lightness of touch to the title track which serves to enhance the jagged emotion and Jason's deceptively sweet tones lead 'Goodbye Old Paint' magnificently. When they harmonise, however, their melodies are elevated to a new level. 'New Lonesome Blues' highlights this to wonderful effect, in a song where the required precision of tricky timing and phrasing might present difficulties for a solo singer. That the Romeros handle it immaculately is no surprise, with their harmony an impressive third delivery dimension.

'There's No Companion' is a high class country song with evocative Marc Jenkins steel adding blue emotion. 'Lonesome And I'm Going Back Home' in which Pharis demonstrates her impressive vocal range, had me scrambling for the liner notes to check the writer's identity. It's a Pharis original but it stands favourably with the greats in its "When money ran out, so did you" refrain and an insistent, climactic coda.
They are versatile too, proven by the languid swing treatment of Billy Mayhew's 'It's A Sin To Tell A Lie', and the instrumental prowess on show is deserving of praise. Jason's instrumental 'Backstep Indi' is a low key guitar/banjo showcase and the rippling arpeggiated accompaniment of 'Ballad Of Old Bill' is like a sweetly-bubbling mountain stream, perfectly-judged for the tale it underpins.
www.pharisandjason.com
Date added: Apr 14, 2015
Share on Facebook
Go Back To The Previous Page