Lemon Tree, Aberdeen. 25 April 2015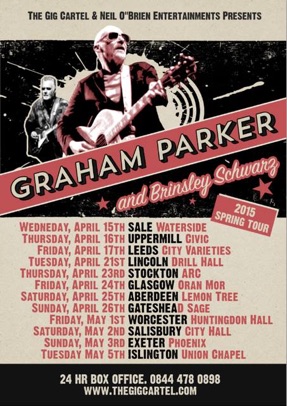 The Graham Parker Duo (featuring Brinsley Schwarz)
Lemon Tree, Aberdeen. 25 April 2015
Live review

"When we started out, all the other bands were about denim and long hair. The music was plodding. Nobody swung. We did."
Thus Graham Parker summed up the early days of his career with The Rumour, and, to prove his point, he and Brinsley Schwarz coasted into 'Silly Thing', where, 'it don't mean a thing, if it ain't got that swing'. That was typical of an evening of spirit-refreshing entertainment as Parker and Schwarz reinterpreted both Rumour and solo GP catalogues, in gentler, but no less passionate arrangements.
There was no need to apologise for playing new material either. Mystery Glue, the follow-up to the hugely-pleasing Three Chords Good is due for release on 18 May, and it will be intriguing to hear 'I've Done Bad Things' and 'Flying Into London' ramped up from the duo arrangement into full Rumour treatment. This shows that the best songs, of which Parker has more than most, will stand almost any treatment from full-blown multi-layered production, to stark guitar and harmonica simplicity.
'Watch The Moon Come Down', the centrepiece of Stick To Me, is a live Rumour show-stopper, so in a more downbeat take, it's an ideal opener for the show. "You'll be hearing a lot of songs from the first album," our affable host revealed to audience delight, "Because they're still bloody good songs".
A hundred minutes flew in. Howlin' Wind songs did indeed dominate the set, with nods to Parker's non-Rumour output and a bit of his old spleen vented as he introduced 'England's Latest Clown'. It ended in a tour-de-force as he and the precise and tasteful Brinsley brought the main set to an end with 'White Honey' jabbing and thrusting and 'Hey Lord, Don't Ask Me Questions' soul-heavy and propelled by familiar jagged reggae rhythms.
I've witnessed two staggering full Rumour shows in 18 months and with Mystery Glue on release, there are bound to be more to come. In the meantime, Graham and Brinsley are whetting appetites gracefully yet edgily.
http://www.grahamparker.net
Date added: Apr 28, 2015
Share on Facebook
Go Back To The Previous Page