Glenbuchat Hall 12 May 2015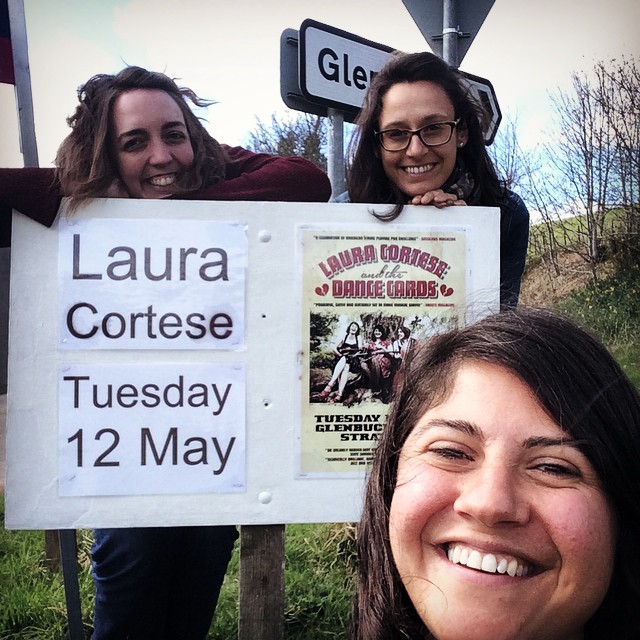 LAURA CORTESE & THE DANCE CARDS
Glenbuchat Hall 12 May 2015
Live review

For the uninitiated, the sight of Glenbuchat Hall's stage instrument quotient numbering only two fiddles and a cello, might have suggested a chamber music recital, perhaps a Celtic set, or an Appalachian adventure was about to take place. 90 minutes later, they knew better.
Laura Cortese, Mariel Vandersteel and Valerie Thompson defy the usual musical and dynamic limits of twelve bowed, plucked and strummed strings. Even aficionados of Laura's 2014 album Into The Dark, familiar with the eclecticism she brings to writing and performance, will be staggered by the constraint-free exuberance of this tour.
The artists' own visible enjoyment helps, of course. Obviously having a ball in their natural onstage habitat, cellist Valerie Thompson's grin rarely left her face as her two colleagues traded licks like Gorham-Robertson era Thin Lizzy and she bowed and plucked percussive and sonorous basslines, as if Jack Bruce was moving among us. I swear the instruments' f-holes were smiling.
With such enthusiasm, Glenbuchat had little option but to reciprocate. "Glenbuchat's the place to be on a Tuesday night," Valerie commented early on, echoing The Dardanelles' comment of a year ago. The pop hooks of 'Perfect Tuesday' just before the interval summed it up.
Among the intense, near rock show atmosphere of a lively evening, the stark soul and quiet ire of 'For Catherine', the arpeggiated Gothic drama of 'Into The Dark' and the "racy" content of John Beaton's 'I Am The House' were moments when poetic beauty bathed Glenbuchat.
New songs, including Laura's California home-inspired 'Skipping Stones' and 'Manufactory', a wry look at internet dating, not apparently all that big in Strathdon, were as well-received as the Dance Cards' masterly take on The Cure's 'Just Like Heaven'. In a climactic finish, the precise harmonies of Shaker hymn 'Lay Me Low' had adult humans swallowing things hard and jagged, before a joyous romp through 'Heel To Toe' saw the trio depart to rapturous, raucous Donside appreciation.
An unplugged and emotional 'Women Of The Ages' (John Beaton again) with its timeless Caledonian references was a fitting and wistful send-off before the Buchateers descended on the merchandise table and on Laura, Valerie and Mariel, their thanks and gratitude wholly heartfelt for a performance bound to live long in the memory.
Remaining UK tour dates are:
May 13 Eden Court Theatre, Inverness
May 14 Private Function, Edinburgh
May 15 The Border Club, Hawick
May 17 Harbour Arts Centre, Irvine
May 18 Grateful Fred's Cafe Series, Liverpool
May 19 The Cross Inn, Haverfordwest
May 20 The Old Ship Inn, Lowdham
May 21 The Ritz Acoustic Club, Burnham-On-Sea
May 22 Square & Compass, Swanage
May 23 Plough Arts Centre, Great Torrington
www.lauracortese.net
www.youtube.com/watch?v=bi27j4558oY
Date added: May 13, 2015
Share on Facebook
Go Back To The Previous Page